Fear is the path to the Dark Side.
Fear leads to anger,
anger leads to hate,
hate leads to suffering.
YODA, Star Wars Episode I: The Phantom Menace
~~~~~~~~~~~~~~~~~~~~~~~~~~~~~~~~~~~~~~~~~~

Looking like a bright star streaking up into a black sky, a rocket took off before dawn today from Cape Canaveral Air Force Station in Florida carrying an unmanned capsule filled with food, clothes, and other supplies for astronauts on the international space station. But this robotic cargo ship doesn't belong to NASA. Instead, it's owned by a company called SpaceX, which made history by launching the first ever private spacecraft on a mission to the station. SpaceX has a $1.6 billion cargo-delivery contract with NASA, which is turning routine flights to the station over to industry so that the veteran space agency can start to focus on more ambitious exploration efforts. (

NPR

)
This is a landmark moment in space travel. With the entry of private firms into the public space game, NASA not only ensures continued support for ISS projects, but can turn their resources to missions above and beyond near-earth orbit.
This is the kind of progress that lets NASA worry less about meeting a bottom line or boldly going where we've gone many times before, and instead lets them start thinking about what's next.
~~~~~~~~~~~~~~~~~~~~~~~~~~
2012 May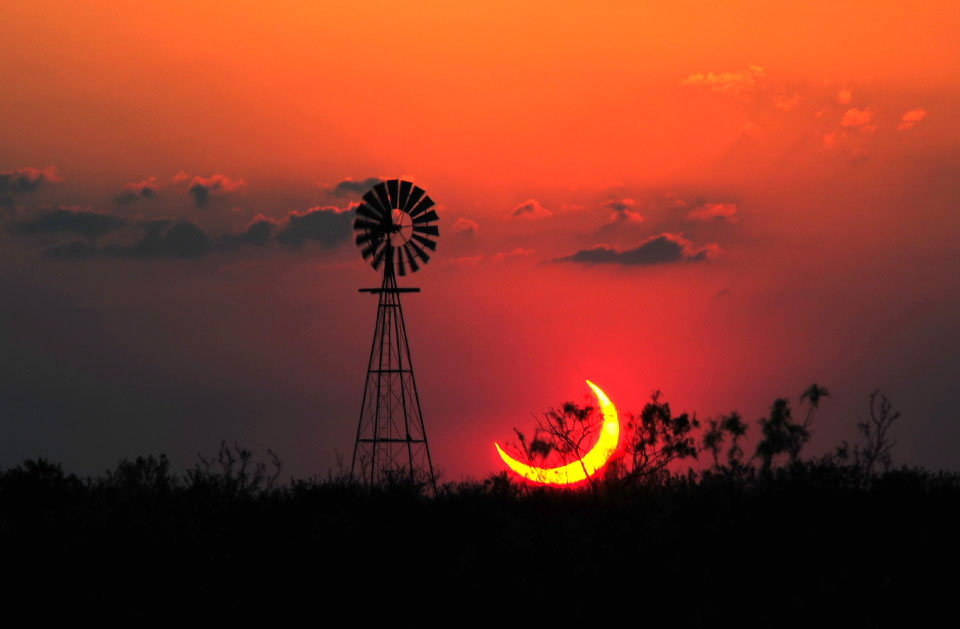 A Partial Solar Eclipse over Texas
Image Credit & Copyright: Jimmy Westlake (Colorado Mountain College) & Linda Westlake
Eclipse Shadow on Earth Seen From Space
A total solar eclipse cast a huge shadow on Earth Wednesday, captured by a Japanese satellite.
Shown here covering Taiwan at 9:30 a.m. local time at nearly the height of the eclipse, the shadow covered some locations as long as six minutes, making it the longest solar eclipse of the century. The next one this impressive will not occur until 2132.
This image combines data from the
MTSAT
stationary satellite of the daytime portion of the globe with previous
data from NASA
of the nighttime portion.
~~~~~~~~~~~~~~~~~~~~~~~~~~~~~
May 20, 2012 Annular Solar Eclipse
"A new study found that 20 percent of Internet time is spent on social networking sites. While the other 80 percent is spent hiding a Facebook window behind Excel." -Jimmy Fallon
~~~~~~~~~~~~~~~~~~~~~~~~~~~
"Yesterday, a group of scientists warned that because of global warming, sea levels will rise so much that parts of New Jersey will be under water. The bad news? Parts of New Jersey won't be under water." --Conan O'Brien
An older man strode in to his doctor's office and said, "Doc, my druggist said to tell you to change my prescription and to check the prescription you've been giving to Mrs. Smith."
"Oh, he did, did he?" the doctor shot back. "And since when does a druggist second guess a doctor's orders?"
The old man says, "Since he found out I've been on birth control pills since February."
The Giant Salt City 1200ft Beneath Detroit
~~~~~~~~~~~~~~~~~~~~~~~~~
QUOTE: "Adapt or perish, now as ever, is nature's inexorable imperative."
HINT: (1866-1946), English author, now best known for his work in the science fiction genre
ANSWER: H.G. Wells.
~~~~~~~~~~~~~~~~~~~~~~
RANDOM TIDBITS
Advertisements for coffee in London in 1657 claimed that the beverage was a cure for scurvy, gout and other ills.
Almonds are the oldest, most widely cultivated and extensively used nuts in the world.
In 1932 James Markham obtained the 1st patent issued for a tree. The patent was for a peach tree.
Rice paper isn't made from rice but from a small tree which grows in Taiwan.
Willow bark, which provides the salicylic acid from which aspirin was originally synthesized, has been used as a pain remedy ever since the Greeks discovered its therapeutic power nearly 2,500 years ago.
The first American advertisement for tobacco was published in 1789. It showed a picture of an Indian smoking a long clay pipe.
~~~~~~~~~~~~~~~~~~~~~~
Canopy Climbing In The Rainforest
http://www.evtv1.com/player.aspx?itemnum=1674
Canopy researchers climb to dizzying heights to rediscover a very ancient world that our ancestors once occupied. Watch as Primal memories and fears will re-emerge.
~~~~~~~~~~~~~~~~~~~~~~
A skin have I, more eyes than one. I can be very nice when I am done. What Am I?
potato
~~~~~~~~~~~~~~~~~~~~~~~~~
Random Facts:
Star Wars
is the most successful movie-related toy line ever sold, with 250 million action figures sold between 1978 and 1986. Imagine those numbers since the digitally re-mastered re-release, new trilogy and Clone Wars cartoon series!
Han Solo's ship in the
Star Wars
trilogy, The Millennium Falcon, was inspired by a hamburger with an olive on the
side.
Life imitates Life
~~~~~~~~~~~~~~~~~~~~~~~~~~~~~~~~~
Converse One Star Super Mario Bros. OX
What a deal! Only $228 & $40 shipping on ebay (These are only being sold in Japan & on ebay)
~~~~~~~~~~~~~~~~~~~~~~~~~~~~~~~~~
I have never really been a do-it-yourself kind of guy when it comes to home repairs and things of that nature, but now that I have a house and a yard I've decided to give it a try.
Just yesterday I weed-whacked, cut the grass, patched up some holes in a window screen, took care of an insect problem and even fixed the lock on the gate. I got quite a bit accomplished.
Today, my tasks will include re-doing all of yesterdays work correctly with the help of my dad because I didn't know what the hell I was doing.
Well, the yard doesn't look too bad. Hey, it's grass, it will grow back.
puff the magic dragon (live version)
~~~~~~~~~~~~~~~~~~~~~
This song still makes me cry ~ So, years ago I added my own new verses to it...
Little Jackie's parents gathered up those toys
And took them down to the shelter for homeless girls and boys
Little tiny Tara still shivering with fears
looked into the bag and saw a dragon crying tears
Her mother patched and painted him
and glued on bright new scales
Now Puff and Tara take magic trips and sing new tales.
NOW, PUFF the Magic Dragon LIVES BY THE SEA
Q and A Quickies --*
Q: What type of food do you eat in a Taxi?
A: Corn on the cab.
Q: What did the big hand on the clock say to the little hand?
A: I'll be around in an hour.
Q: What did the man who was just cloned say?
A: "I'm beside myself!"
Q: What did one dog say to the other?
A: Sit down quick, here comes old cold nose.
~~~~~~~~~~~~~~~~~~~~~
During an auction of exotic pets, a woman who had placed a winning bid told the auctioneer, "I'm paying a fortune
for that parrot. I hope he talks as well as you say he does."
"I guarantee it, madam," replied the auctioneer. "Who do you think was bidding against you?"
~~~~~~~~~~~~~~~~~~~~~~~~~~~~~~
Q: How do you tell if an Arkansas girl is old enough to marry?
A: Make her stand in a barrel. If her chin is over the top, she's old enough. If it isn't, cut the barrel down a bit.
~~~~~~~~~~~~~~~~~~~~~~~~
A guy driving a truck in the middle of nowhere picks up a hitch-hiker. It gets dark and the hitch-hiker falls asleep. Suddenly bang, and the hitch-hiker wakes up,"what the hell was that?". The truck driver replies, "some kinda animal, go back to sleep."
Further the same thing again, bang, "What the hell was that?", "some kinda animal again."
Further into the night, bang, bang, bang, "What the hell was that?", "Some bastard!".
"How terrible",says the hitch-hiker, "but there were 3 bangs"
The truck driver replies, "Yeah, well I had to go through two fences to get the bastard. . ."
~~~~~~~~~~~~~~~~~~~~~~~
A man and his wife had been stranded on a deserted island for many years. The morning following a bad storm, a new guy washes up on the shore.
The new guy and the wife are VERY attracted to each other right away, but they realize that certain protocols will have to be observed. The husband, oblivious to the new chemistry floating around, is very glad to see the second man there.
"This is wonderful! Now we'll be able to have three people doing 8-hour shifts in the watchtower instead of two people doing 12-hour shifts."
The new man is only too happy to help, and in fact volunteers to do the first shift. He climbs up the tall tower and stands watch, scanning the ocean horizon for any ships. Soon the husband and wife start placing stones in a circle in order to make a fire to cook supper. The new man yells down: "Hey, no screwing!"
They look at each other and yell back: "We're not screwing!"
A few minutes later, they start to put driftwood into the stone circle. Again the new man yells down: "Heeey, no screwing!"
Again they yell back, "We're not screwing!"
Later they are putting palm leaves on the roof of the shack to patch leaks. Once again the new man yells down from high above:
"Hey, I said no screwing!!"
They yell back, "And we said we're not screwing!!"
Finally the shift is over and the new man climbs down from the tower and the husband starts to climb up. By the time he gets half-way up, his wife and the new man are already screwing their brains out. Once at the top, the husband turns around and looks down and says to himself:
"Son-of-a-gun. From up here it DOES look like they're screwing.
~~~~~~~~~~~~~~~~~~~~~~~~~
Three men: a philosopher, a mathematician and an idiot,were out riding in the car when it crashed into a tree. Before anyone knows it, the three men found themselves standing before the pearly gates of Heaven, where St Peter and the Devil were standing nearby.

"Gentlemen," the Devil started, "Due to the fact that Heaven is now overcrowded, therefore St Peter has agreed to
limit the number of people entering Heaven. If anyone of you can ask me a question which I don't know or cannot
answer, then you're worthy enough to go to Heaven; if not, then you'll come with me to Hell."

The philosopher then stepped up, "OK, give me the most comprehensive report on Socrates' teachings," With a snap
of his finger, a stack of paper appeared next to the Devil. The philosopher read it and concluded it was correct. "Then, go to Hell!" With another snap of his finger, the philsopher disappeared.

The mathematician then asked, "Give me the most complicated formula you can ever think of!" With a snap of his finger,
another stack of paper appeared next to the Devil. The mathematician read it and reluctantly agreed it was correct. "Then, go to Hell!" With another snap of his finger, the mathematician disappeared, too.

The idiot then stepped forward and said, "Bring me a chair!" The Devil brought forward a chair. "Drill 7 holes
on the seat." The Devil did just that. The idiot then sat on the chair and let out a very loud fart. Standing up, he
asked, "Which hole did my fart come out from?"

The Devil inspected the seat and said, "The third hole from the right."

"Wrong," said the idiot, "it's from my asshole." And the idiot went to Heaven.
~~~~~~~~~~~~~~~~~~~~~~~~