We went to the Moon....
And we discovered Earth.
~ Neil deGrasse Tyson,
A New Perspective
~~~~~~~~~~~~~~~~~~~~~~~~~~~~~~~~~~~~~~
2012 June
Milky Way Galaxy Doomed: Collision with Andromeda Pending
Illustration Credit: NASA, ESA, Z. Levay and R. van der Marel (STScI), and A. Mellinger
Explanation: Will our Milky Way Galaxy collide one day with its larger neighbor, the Andromeda Galaxy? Most likely, yes.
Careful plotting
of slight displacements of M31's stars relative to background galaxies on recent
Hubble Space Telescope
images indicate that the center of M31
could be
on a direct
collision course
with the center of our home galaxy. Still, the errors in sideways velocity appear sufficiently large to admit a
good chance
that the central parts of the two galaxies will miss, slightly, but will become
close enough
for their outer halos to become
gravitationally entangled
. Once that happens, the two galaxies will become bound,
dance around
, and
eventually merge
to
become one
large
elliptical galaxy
-- over the next few billion years.
Pictured above
is an artist's illustration of the sky of a world in the distant future when the central parts of each galaxy begin to destroy each other. The exact future of our Milky Way and the entire surrounding
Local Group of Galaxies
is likely to remain an active topic of research for years to come.

Found at

Reddit

.
~~~~~~~~~~~~~~~~~~~~~~~~~~~~
~~~~~~~~~~~~~~~~~~~~~~
~~~~~~~~~~~~~~~~~~~~~~
~~~~~~~~~~~~~~~~~~~~~~
This is dedicated to all women everywhere who have ever had to deal with a public toilet. And it finally explains to all you men what takes us so long. My mother was a fanatic about public toilets. As a little girl, she'd bring me in the stall, teach me to wad up toilet paper and wipe the seat. Then, she'd carefully lay strips of toilet paper to cover the seat. Finally, she'd instruct, "Never, never sit on a public toilet seat." And she'd demonstrate "The Stance," which consisted of balancing over the toilet in a sitting position without actually letting any of your flesh make contact with the toilet seat. But by this time, I'd have peed down my leg. And we'd go home.
That was a long time ago. I've had lots of experience with public toilets since then, but I'm still not particularly fond of public toilets, especially those with powerful, red-eye sensors. Those toilets know when you want them to flush. They are psychic toilets. But I always confuse their psychic ability by following my mother's advice and assuming The Stance. The Stance is excruciatingly difficult to maintain when one's bladder is especially full. This is most likely to occur after watching a full-length feature film.
During the movie pee, it is nearly impossible to hold The Stance. You know what I mean. You drink a two liter cup of Diet Coke, then sit still through a three-hour saga because, for God's sake, even if you didn't wipe or wash your hands in the bathroom, you'd still miss the pivotal part of the movie or the second scene, in which they flash the leading man's naked derriere.
So, you cross your legs and you hold it. And you hold it until that first credit rolls and you sprint to the bathroom, about ready to explode all over your internal organs. And at the bathroom, you find a line of women that makes you think there's a half-price sale on Mel Gibson's underwear in there.
So, you wait and smile politely at all the other ladies, also crossing their legs and smiling politely. And you finally get closer. You check for feet under the stall doors. Every one is occupied. You hope no one is doing frivolous things behind those stall doors, like blowing her nose or checking the contents of her wallet.
Finally, a stall door opens and you dash, nearly knocking down the woman leaving the stall. You get in to find the door won't latch. It doesn't matter. You hang your handbag on the door hook, yank down your pants and assume The Stance.
Relief. More relief. Then your thighs begin to shake. You'd love to sit down but you certainly hadn't taken time to wipe the seat or lay toilet paper on it, so you hold The Stance as your thighs experience a quake that would register an eight on the Richter scale. To take your mind off it, you reach for the toilet paper. Might as well be ready when you are done. The toilet paper dispenser is empty.
Your thighs shake more. You remember the tiny napkin you wiped your fingers on after eating buttered popcorn. It would have to do. You crumble it in the puffiest way possible. It is still smaller than your thumbnail.
Someone pushes open your stall door because the latch doesn't work and your pocketbook whams you in the head. "Occupied!" you scream as you reach out for the door, dropping your buttered popcorn napkin in a puddle and falling backward, directly onto the toilet seat. You get up quickly, but it's too late. Your bare bottom has made contact with all the germs and life forms on the bare seat because YOU never laid down toilet paper, not that there was any, even if you had enough time to. Your mother would be utterly ashamed of you if she knew, because her bare bottom never touched a public toilet seat because, frankly, "You don't know what kind of diseases you could get."
By this time, the automatic sensor on the back of the toilet is so confused that it flushes, sending up a stream of water akin to a fountain and then it suddenly sucks everything down with such force that you grab onto the toilet paper dispenser for fear of being dragged to China.
At that point, you give up. You're finished peeing. You're soaked by the splashing water. You're exhausted. You try to wipe with a Chicklet wrapper you found in your pocket, then slink out inconspicuously to the sinks. You can't figure out how to operate the sinks with the automatic sensors, so you wipe your hands with spit and a dry paper towel and walk past a line of women, still waiting, cross-legged and unable to smile politely at this point.
One kind soul at the very end of the line points out that you are trailing a piece of toilet paper on your shoe as long! as the Mississippi River. You yank the paper from your shoe, plunk it in the woman's hand and say warmly, "Here You might need this."
At this time, you see your spouse, who has entered, used and exited his bathroom and read a copy of War and Peace while waiting for you.
"What took you so long?" he asks, annoyed. This is when you kick him sharply in the shin and go home.
"Powerscout Waterfall" – Wicklow Mountains, Ireland – Flip Kos - Featured Photographer Charlie's Super Fantastic Photo Tip
10. You wake up at 3a.m. to go to the bathroom, and check your email on the way back to bed.
9. Your firstborn is named dotcom.
8. You turn off your modem and are suddenly filled with a feeling of emptiness, as if you just pulled the plug on a loved one.
7. You spend half of a plane trip with you laptop in your lap…and your child in the overhead compartment.
6. You decide to stay in college for an additional year or two, just for the free Internet access.
5. You find yourself typing "com" after every period.com
4. You refer to going to the bathroom as downloading.
3. You move into a new home and decide to Netscape before you landscape.
2. You start tilting your head sideways to smile.
1. Immediately after reading this list, you email it to someone.
In November 1971, we were locked in yet another space race, albeit a quieter one. Americans had already begun to grow bored with the Apollo program, as the final two missions were to be launched in 1972, those primarily being very expensive geology expeditions.
Then
Mariner 9
was launched. We were in a race with the USSR to put a spacecraft in orbit around another planet. In November of 1971, we did it. I'm not sure that Americans were by any means excited about it, but they should have been. Just as we must
stay excited about our progress yet to come
.
Ray Bradbury joined Arthur C. Clarke, Carl Sagan and others at NASA's Jet Propulsion Labs in Pasadena to commemorate the mission's success. Here he reads his poem "If Only We Had Taller Been", an ode to exploration, and a fitting tribute to his legacy as a writer and dreamer. In full above (with a captivated Sagan included) and excerpted below:
O, Thomas, will a Race one day stand really tall

Across the Void, across the Universe and all?

And, measure out with rocket fire,

At last put Adam's finger forth

As on the Sistine Ceiling,

And God's great hand come down the other way

To measure Man and find him Good,

And Gift him with Forever's Day?

Short man. Large dream. I send my rockets forth

Hoping an inch of Will is worth a pound of years.

Aching to hear a voice cry back along the universal Mall:

We've reached Alpha Centauri!

We're tall, O God, we're tall!
~~~~~~~~~~~~~~~~~~~~~~~~~~~~~~~~
~~~~~~~~~~~~~~~~~~~~~
"I can't find it," REALLY MEANS, "It didn't fall into my outstretched hands, so I'm completely clueless."
"That's women's work," REALLY MEANS, "It's dirty, difficult and thankless."
"Will you marry me?" REALLY MEANS, "Both my roommates have moved out, I can't find the washer, and there is no more peanut butter."
"It's a guy thing," REALLY MEANS, "There is no rational thought pattern connected with it, and you have no chance at all of making it logical."
"Can I help with dinner?" REALLY MEANS, "Why isn't it already on the table?"
"It would take too long to explain, "REALLY MEANS, "I have no idea how it works."
"I'm getting more exercise lately," REALLY MEANS, "The batteries in the remote are dead."
"We're going to be late," REALLY MEANS, "Now I have a legitimate excuse to drive like a maniac."
"Take a break, honey, you're worrying too hard, "REALLY MEANS, "I can't hear the game over the vacuum cleaner."
"That's interesting, dear," REALLY MEANS, "Are you still talking?"
"Honey, we don't need material things to prove our love, REALLY MEANS, "I forgot our anniversary again."
"It's really a good movie," REALLY MEANS, "It's got guns, knives, fast cars, and good looking women."
"You know how bad my memory is," REALLY MEANS, "I remember the words to the theme song of "F Troop", the address of the first girl I kissed, the Vehicle Identification Number of every car I've ever owned, but I forgot your birthday."
"Oh, don't fuss. I just cut myself. It's no big deal," REALLY MEANS, "I have actually severed a limb, but will bleed to death before I admit I'm hurt."
"I do help around the house," REALLY MEANS, "I once threw a dirty towel near the laundry basket."
"What did I do this time?" REALLY MEANS, "What did you catch me doing?"
"She's one of the rabid feminists," REALLY MEANS, "She refused to make my coffee."
"I heard you," REALLY MEANS, "I haven't the foggiest clue what you just said, and am hoping desperately that I can fake it well enough so that you don't spend the next 3 days yelling at me."
"You really look terrific in that outfit," REALLY MEANS, "Please don't try on another outfit. I'm starving."
"I missed you," REALLY MEANS, "I can't find my sock drawer, the kids are hungry and we are out of toilet paper."
"I'm not lost. I know exactly where we are," REALLY MEANS, "No one will ever see us alive again."
"We share the housework," REALLY MEANS, "I make the messes. She cleans them up."
"I don't need to read the instructions," REALLY MEANS, "I am perfectly capable of messing it up without printed help."
"Philosophy consists very largely of one philosopher arguing that all others are jackasses. He usually proves it, and I should add that he usually proves that he is one himself." — H.L. Mencken
propreantepenultimate
adj. last but four
Science monsters will eat you if you don't know math.
Their publications are completely free, available at
http://www.darkmatterfanzine.com/publications.html
and they fully straddle the social world with a
blog
,
Facebook
page and
Twitter
feed, from each of which Nalini promises to deliver a slightly different experience of Dark Matter from the fanzine itself. They've even got the State Library of Victoria making Dark Matter available in paper format (which is kinda cool!)
Email
darkmatterfanzine@gmail.com
with the word 'subscribe' in the subject field. Dark Matter promises that "E-mail addresses will be considered confidential and will not be used for any purpose other than distribution."
Happy reading fellow geeks.
~~~~~~~~~~~~~~~~~~~~~~~~~~~~~~~~~~~~~~

This video [below] takes SDO images and applies additional processing to enhance the structures visible. While there is no scientific value to this processing, it does result in a beautiful, new way of looking at the sun.
http://youtu.be/4g1nmyxVkws
The original frames are in the 171 Angstrom wavelength of extreme ultraviolet. This wavelength shows plasma in the solar atmosphere, called the corona, that is around 600,000 Kelvin.
The loops represent plasma held in place by magnetic fields. They are concentrated in "active regions" where the magnetic fields are the strongest. These active regions usually appear in visible light as sunspots. The events in this video represent 24 hours of activity on September 25, 2011.
~~~~~~~~~~~~~~~~~~~~~~~~~~~~
Swarm of Venomous Spiders Descended on an Indian Town
It sounds like a Hollywood movie, but last month, a swarm of venomous spiders suddenly descended on festival-goers in the northeastern Indian town of Sadiya:
... on May 22, a team of life scientists from Dibrugarh University and Gauhati University arrived in Sadiya. Led by Dr L R Saikia, head, Department of Life Sciences, Dibrugarh University, the team camped in the trouble spot for two days and nights and collected specimens. "As of now, we cannot give a specific name. It's similar to the tarantula, but it could be a whole new species. There aren't any arachnologists in the northeast, so it will take us a while to identify it. But whatever the species, it is a highly aggressive spider. It leaps at anything that comes close. Some of the victims claimed the spider latched onto them after biting. If that is so, it needs to be dealt with carefully. The chelicerae and fangs of this critter are quite powerful; but it's too early to declare it a killer spider. In fact, we are yet to test its venom and find out the toxicity," says Dr Saikia.
Link
- via
TIME NewsFeed
~~~~~~~~~~~~~~~~~~~~~~~~~~~~~
scrambler:
What letter is next in this sequence? O T T F F S S E _?
ANSWER:
N for the number 9. The letters represent the first letter of each number.
QUOTE: "One of the most sublime experiences we can ever have is to wake up feeling healthy after we have been sick."
HINT: (1935-), prominent American rabbi aligned with the progressive wing of Conservative Judaism, and a popular author.
ANSWER: Harold Kushner.
RANDOM TIDBITS
New York physician George Huntington was only 22 years old in 1872 when he published a paper describing the condition that caused involuntary twitches and tremors now known as Huntington's Chorea. He also correctly surmised at the time that the disease was hereditary and never skipped a generation.
Alois Alzheimer was a German doctor who would eventually gain fame after studying an otherwise healthy 51-year-old female patient who was showing signs of dementia. After her death, he autopsied her brain and noted abnormalities in the

cerebral cortex.
For hundreds of years, leprosy was thought to be a hereditary disease or a curse from God. In 1873, Dr. Gerhard Henrik Armauer Hansen of Norway discovered the bacterium that causes leprosy, and the condition is now more properly referred to as Hansen's disease.
James Parkinson was a British physician who wrote some of the first medical papers describing gout and the connection between an inflamed appendix and peritonitis. But he will always be remembered for his 1817 essay on the "Shaking Palsy" which today is known as Parkinson's Disease.
Until 1961, the condition known as Down Syndrome was commonly referred to as "Mongolian Idiocy." The World Health Organization voted to change the name to honor John Langdon Down, the physician who first described the characteristic head shape and hand folds of children born with the syndrome.
When campaigning for the presidency, John F. Kennedy went to great lengths to project an image of youth and vigor in order to hide the fact that he was suffering from Addison's Disease. Various photos of Kennedy during that era show the facial puffiness that resulted from the heavy doses of steroids he was taking.
To see the location of this road, go to
Google Maps
and enter "Atlantic Road, Norway." It's along the coast, about half-way between Alesund and Trondheim.
~~~~~~~~~~~~~~~~~~~~~~~~~~
A 10-year-old Irish boy stands crying at the side of the road. A man passing by asks, "What's wrong, lad?"
The boy says, "Me ma died this morning."
"Oh, be Jaysus," the man says. "Do you want me to call Father O'Reiley for you?"
The boy replies, "No tanks, mister. Sex is the last ting on me mind at the moment."
~~~~~~~~~~~~~~~~~~~~~~~~~~~~~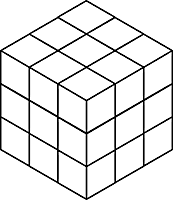 We have 27 wooden cubes. The first is marked A on every face, the second B, and so on through the alphabet to Z. The 27th cube is blank. Is it possible to assemble these cubes into a 3×3×3 cube with the blank cube at the center, arranging them so that cube A adjoins cube B, cube B adjoins cube C, and so on, forming a connected orthogonal path through the alphabet?
~~~~~~~~~~~~~~~~~~~~~~~~~~
"JC Penny has a new ad in their catalog that features a pair of gay dads. Some people were shocked by the ad, especially the guys' wives." -Craig Ferguson
"My girlfriend and I are talking about getting married. She keeps asking me if I can support her, but she knows I can...she's always on my back." --Scott Wood


~~~~~~~~~~~~~~~~~~~~~~
"A new study found that heavy drinkers outlive non-drinkers, but the ways they die are a lot more embarrassing." -Jimmy Fallon
~~~~~~~~~~~~~~~~~~~~~`
"A company in Britain has created a car that can be powered by human waste. It's cool, but it gets a little uncomfortable when your buddy asks you to 'chip in' for gas." -Jimmy Fallon
~~~~~~~~~~~~~~~~
QUOTE: "Perhaps the most valuable result of all education is the ability to make yourself do the thing you have to do, when it ought to be done, whether you like it or not; it is the first lesson that ought to be learned; and however early a man's training begins, it is probably the last lesson that he learns thoroughly."
HINT: (1825-1895), English biologist (anatomist), known as "Darwin's Bulldog" for his advocacy of Charles Darwin's theory of evolution.
For sculpture that's really first class
You need form, composition, and mass.
To do a good Venus
Just leave off the penis,
And concentrate all on the ass.
"

It's very sweet, it's very nice. I still don't get it. When people say I've affected their lives, I still don't quite get it. I went to work–most weeks–seven days a week. I put my heart and soul into that dumb thing, with the dream that some of you would pursue careers in science and engineering, or at least have an appreciation for it. The ultimate would be if one of you–or a group of you–solve some astonishing world problem.

"
Bill Nye, on his legacy as a science hero to a generation.
So, any takers? Who was inspired by Bill to solve an astonishing world problem? (raises hand)
~~~~~~~~~~~~~~~~~~~~~~~~~~~~
For engineers looking to create the next generation of armour, the ocean is the place to look. Animals from
snails
to crabs protect themselves with hard shells whose microscopic structures imbue them with exceptional durability, surpassing even those of most man-made materials. They are extreme defences.
The mantis shrimp smashes them apart with its fists.
That's the animal that
David Kisailus
from the University of California, Riverside is studying. "People have been studying molluscs for decades because they're thought to be very impact-resistant," he says. "The mantis shrimp eats these guys for dinner."
~~~~~~~~~~~~~~~~~~~~~~~~~~~~
The word sophomore is based on a combination of Greek words that translates to "wise fool." The term was first used in the academic sense to describe students at Cambridge University when it opened in the 16th century.
When Latin was still the common language, a baccalarius was "a junior member of the guild." Over the years, the spelling of the word changed, as did the meaning: an apprentice student or tradesman, someone who had passed a basic level of training. That's why today we call a four-year diploma a "Bachelor's degree."
The square cap students wear on graduation day is called a "mortarboard" because of its resemblance to the tool of the same name used by masons. A version of the mortarboard has been worn by academics since the 16th century, but the tassel wasn't added until the 19th century.
Since 1970, a three-year degree from an accredited law school has been a "Juris Doctor" or J.D. in the United States, replacing the LL.B. (Bachelor of Law) degree issued up to that time.
The very first university degree were licenses to teach. As part of the graduation process, the student delivered his first lecture as an officially licensed teacher. This ceremony was called "commencement" because it represented a beginning - the graduate could now "commence to teach."
A diploma is referred to as a "sheepskin" because diplomas were once handwritten on thin sheets of sheep flesh (before the art of papermaking was fine-tuned).
~~~~~~~~~~~~~~~~~~~~~~~~~~~~~~
"

Sometimes I think the surest sign that intelligent life exists elsewhere in the universe is that none of it has tried to contact us.

"
Calvin, from Calvin and Hobbes
~~~~~~~~~~~~~~~~~~~~~~~~~~~~~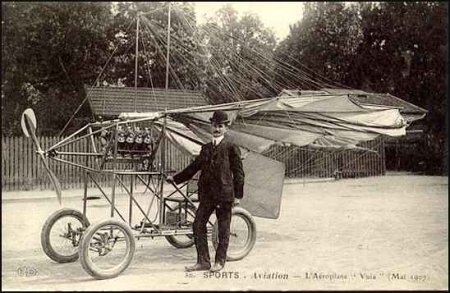 Letter to the Times, April 27, 1910:
Motor-cars are bad enough, but they do not come into one's house or garden. With aeroplanes total strangers may drop in, through the roof, for a little chat at any time. I fear the law cannot protect one against such intrusion. If aviation becomes popular I shall have spikes, with long strong prongs, fixed on the chimneys of my house, and the word 'Danger' painted in large red letters on a flat part of the roof. If any flying machines come down in my garden I shall send for the police to remove the occupants, whom I shall sue afterwards for any damage to my trees or shrubs.
I am, Sir, your obedient servantt
~~~~~~~~~~~~~~~~~~~~~~~~~~~~~~~~~~~
From a wobbly Westeros to an elliptical orbit to winds and currents … there's science in this fiction.
(via io9, GIF via Blogwell)
~~~~~~~~~~~~~~~~~~~~~~~~~~
Are We Poisonous Snakes?
Two snakes were crawling along when one snake asked the other, "Are we poisonous snakes?"
The other replied, "You're darn right we're poisonous! We're rattlesnakes. Why do you ask?"
To which the first replied, "Because I just bit my tongue."
~~~~~~~~~~~~~~~~~~~~~~~~~~~~~~~~
Random Facts:
California's Mount Whitney measures as the highest peak in the lower 48 states. Its most famous climb is Mount Whitney Trail to the 14,495 feet summit. Wilderness permits are required.
Fallbrook, CA is known as the Avocado Capital of the World and hosts an annual Avocado Festival. More avocados are grown in the region than any other county in the nation.
A Man Goes Into A Pet Store



A man goes into a pet store and asks the clerk, "Do you have any dogs that go cheap?"




The salesman says, "No, we have birds that go cheep. Our dogs go BARK!"


~~~~~~~~~~~~~~~~~~~~~~~~
Q and A Quickies --*



Q: Did you hear about the psychic midget who escaped from jail?




A: He became a Small Medium At Large.





Q: What did the curtain say to the wall?




A: I'm tired of hanging around all day.


~~~~~~~~~~~~~~~~~~~~~
What Hit Earth 1,200 Years Ago?
Did you know that June is National candy Month? In honor of the occasion, today's Lunchtime Quiz at mental_floss challenges you to name the 13 biggest-selling candies in the Unites States. Gum and mints are excluded from this list, which may make it easier or harder, who knows. You have three minutes.
Link
There was a young lady of fashion
Who had oodles and oodles of passion.
To her lover she said,
As they climbed into bed,
"Here's one thing the bastards can't ration!"
~~~~~~~~~~~~~~~~~~~~~
The one that didn't get away!
Google has officially announced the World Wonders Project, which offers 360-degree views of 132 historic sites from 18 different countries. By using the Street View technology, Google has a unique opportunity to make world heritage sites available to users across the globe. The World Wonders Project also presents a valuable resource for students and scholars who can now virtually discover some of the most famous sites on earth. The project website also provides a window to 3D models, YouTube videos and photography of the famous heritage sites.
"Sometimes I wonder if men and women really suit each other.
Perhaps they should live next door and just visit now and then."
--- Katharine Hepburn
At one point or another, we've all fantasized about living on our own isolated island, but while there are plenty uninhabited islands around, you have to wonder why no one has moved in yet. Mental Floss has the scoop on ten uninhabited islands and why no one happens to live on each. For example, Palmyra Atoll: The U.S. military built an airstrip there during World War II, which has fallen into ruin. The atoll now is administered by the U.S. Fish and Wildlife agency, with the exception of Cooper Island, which is owned by the Nature Conservancy. Palmyra Atoll was the setting for a double murder in 1974 which became the basis for the novel and then miniseries called And the Sea Will Tell.
Read about the rest at the link.
Link
~~~~~~~~~~~~~~~~~~~~~~~~~~~~~~~
Thanks sg
As many as 100 species go extinct every day. How many have we even failed to identify? How many could we prevent?
How many are we responsible for?
Joel Sartore is a National Geographic photographer, and his new book RARE puts a face on the anonymously endangered. And this is just in North America.
You can get copies here
, and also see more photos.
Sometimes you have to stare a problem with in its cute/scary/nonexistent face in order to take action.
Any fool can know. The point is to understand.~
Albert Einstein
~~~~~~~~~~~~~~~~~~~~~~~~
Upon returning to their car from a shopping tour, one of the young ladies realized that she had forgotten to stop at the pharmacy for her birth control pills. She rushed into the nearest pharmacy and gave her prescription to the pharmacist. "Please fill this immediately," she asked. "I've got people waiting in my car!"
~~~~~~~~~~~~~~~~~~~~~~~~
Hit the nail on the head

Inanimate yet homicidal item found in Fable

Not the wedges end

Move onto solids
Air has put together a persuasive little video for Amnesty International. It shows a black limo pulling up at the entrance of arms manufacturer FN Herstal. A gangster-type in suit and sunglasses gets out and asks the security guard if he can buy some arms. His boss, who is waiting in the limo, is looking to make a big purchase. The guard is a little surprised but eventually calls the marketing department…you can see what happens in this video. Sufficient to say that the aim of this stunt is to collect a maximum of signatures for a petition demanding that the treaty on arms trade is applied effectively. This just ahead of debates on the subject at the UN on 2nd July.
~~~~~~~~~~~~~~~~~~~~~~~~~
Xylitol ("wood" + suffix -itol), used to denote sugar alcohols) is a
sugar alcohol
sweetener used as a naturally occurring
sugar substitute
. It is found in the
fibers
of many
fruits
and
vegetables
, and can be extracted from various
berries
,
oats
, and
mushrooms
, as well as fibrous material such as
corn husks
and
sugar cane
bagasse
, and birch. Xylitol is roughly as sweet as
sucrose
with only two-thirds the
food energy
. As with other sugar alcohols, with the exception of
erythritol
, consumption in excess of one's laxation threshold (the amount of sweetener that can be consumed before abdominal discomfort sets in) can result in temporary gastrointestinal side effects, such as
bloating
,
flatulence
, and
diarrhea
.
Found in Jello Mousse
There once was a young boy named Steven
Who noticed his balls were uneven.
When he pulled on the right,
The left shot out of sight:
Not the effect Steve was keen on achievin'.
~~~~~~~~~~~~~~~~~~~~~~~~~

image credit
Nature doesn't need an audience. These wonderful orchids come from the south-eastern Ecuadorian and Peruvian cloud forests from elevations of 1000 to 2000 meters and as such not many people throughout history got to see them. However, thanks to intrepid collectors we do get to see this wonderful Monkey Orchid. Someone didn't need much imagination to name it though, let's face it.
Swirling Spiral of Light Over the Middle East
Last week, a swirling spiral of light was seen in the skies over Israel, Syria and other Middle East countries. Was it UFO?
Naw, turned out it was just the Russians: The Voice of Russia reported that the country's Strategic Missile Forces conducted a test of the Topol ICBM from the Kapustin Yar firing range near Astrakhan in southern Russia on Thursday. Such a launch could theoretically be seen from areas of the Middle East and the Caucasus.
Alan Boyle of MSNBC's Cosmic Log has the story:
Link
From the 2000 Indiana College Mathematics Competition:
Four suspects, one of whom was known to have committed a murder, made the following statements when questioned by police. If only one of them is telling the truth, who did it?
Arby: Becky did it.
Becky: Ducky did it.
Cindy: I didn't do it.
Ducky: Becky is lying.
How to Kill a Reanimated Skeleton
By this point, we all know how to deal with zombies: aim for the head. Destroy the brain and you've put a zombie down for good. A hit anywhere else just wastes ammunition.
But what about reanimated skeletons? You're far more likely to encounter them than zombies, which are just imaginary. Aiming for center mass or the head will probably accomplish nothing. Brian J. Noggle argues that your best bet is to shoot the skeleton's pelvis: Shoot a little high, you might be able to sever that spinal cord. A little to each side and low, maybe you'll put the skeleton on the ground and incapacitated. A direct hit will probably do both, leaving the skeleton to only crawl toward you, allowing you time to escape. Or, I suppose, it could ride C3P0-on-Chewbacca style on another skeleton. Regardless, it's one less coming after you under its own unholy power.
Museum of Endangered Sounds
"Imagine a world where we never again hear the symphonic startup of a Windows 95 machine. Imagine generations of children unacquainted with the chattering of angels lodged deep within the recesses of an old cathode ray tube TV. And when the entire world has adopted devices with sleek, silent touch interfaces, where will we turn for the sound of fingers striking QWERTY keypads? Tell me that. And tell me: Who will play my GameBoy when I'm gone?"
These questions led Brendan Chilcutt to embark on a mission to collect and preserve these sounds in The Museum of Endangered Sounds:
Link
- via
Design Taxi
The Industrial Life of Button Mushroom
That delicious mushroom you just had with your salad wasn't harvested from a beautiful forest or an idyllic farm. No, neatoramanauts, every single step in the growing, harvesting, and processing of Agaricus bisporus, or the champignon or button mushroom is industrial in nature.
Take a look at this video clip by
Havatec
, which explains everything. Hit play or go to
Link
[YouTube] - via
Kottke
Oh, a mushroom trivia for you: if you let that common button mushroom grow to maturity, you get portabello mushroom. Thought you've been eating two different kinds of mushrooms?
Seen on the back of a food service delivery van:

Driver does not
carry more than $50
worth of lasagna
~~~~~~~~~~~~~~~~~~~~~~~~~~~~~~~
The medics rush Mr. Steinberg to the hospital in the middle of the night, apparently with a massive heart attack. The doctors work on him all night and morning and finally discharge him to ICU, where therapy continues.

In a couple of days Mr. Steinberg's physician comes into his room and says, "Sol, I'm happy to tell you that you are completely well. You have the heart function that you did when you were a fifteen-year-old lad. We're going to send you home tomorrow. You don't have to worry about your heart; do any physical exercise that you like."

Mr. Steinberg goes home and that evening is talking with his wife: "Doris, you'll never believe it: I'm completely well. I have no worries with my heart. Tonight, Darling, you and I are going to make love like you've never had before, wild, passionate
sex....you'll love it!"

Doris thinks for a minute and says, "I don't know, Sol. I've heard about active sex and heart conditions. I don't want it to be on my head if you croak while we are making love. Maybe, just maybe, if your doctor wrote a note to me saying that everything was OK... maybe I would have such sex with you...."

Mr. Steinberg was dejected, but the next day he was in his doctor's office; his doctor tells him, "Sure, sure, Sol, no problem, I'll write the note. Let's see, here's my prescription pad: "Mr. Sol Steinberg, a patient of mine, has the heart function of a fifteen-year-old lad and can have mad, passionate, adventurous sex any time that he so desires, signed, Dr. Aaron Katz....... Now, I'll just address this.......By the way, Sol, what's your wife's first name?"

"Uh, Doctor, could you just make that, 'To Whom It May Concern"?
~~~~~~~~~~~~~~~~~~~~~~~~~
My husband grew increasingly displeased as our teenage daughter and her boyfriend studied in her room late one evening. Finally losing patience shortly after midnight, he knocked sharply on her door. Her boyfriend immediately opened it and asked if something was wrong.




"I have to ask you to move your car," my husband told him.




"Oh, sure. Is it in someone's way?"




"No," he replied, "it's parked in the wrong driveway."


~~~~~~~~~~~~~~~
Ursa ~~~~~~~~~~~~~~~~~~~~~~~~~~~~~~~~~~~~~~~~~~