I

have finally discovered what's wrong with my brain:
On the left side, there is nothing right
On the right side, there is nothing left.
~~~~~~~~~~~~~~~~~~~~~~~~~~~~~~~~~~~~~~~~~~
2012 June 17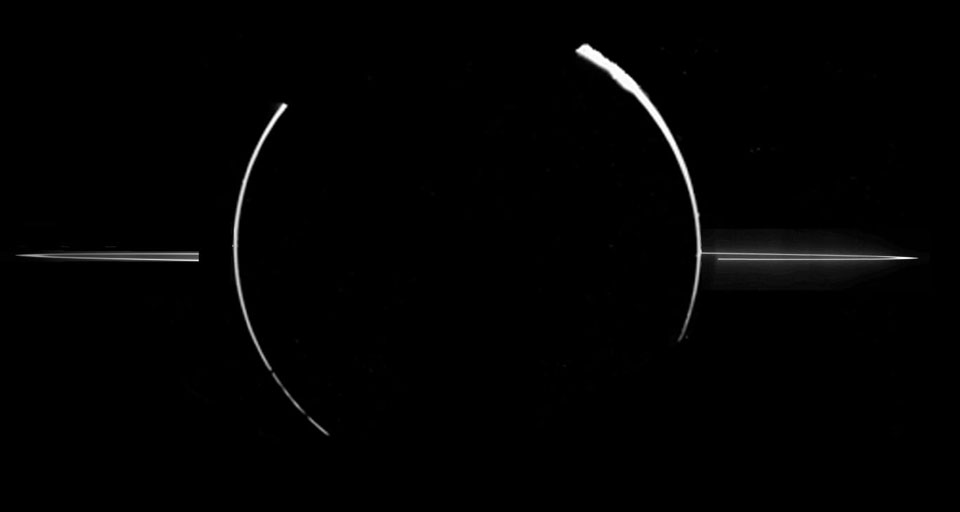 Jupiter's Rings Revealed
Image Credit: M. Belton (NOAO), J. Burns (Cornell) et al., Galileo Project, JPL, NASA
The View from the Top
There have been many images of the full
disc of Earth from space
—a view often referred to as
"the Blue Marble"
—but few have looked quite like this. Using natural-color images from the Visible/Infrared Imaging Radiometer Suite (VIIRS) on the recently launched Suomi-NPP satellite, a NASA scientist has compiled a new view showing the Arctic and high latitudes.
Ocean scientist Norman Kuring of NASA's Goddard Space Flight Center pieced together this composite image of Europe, Asia, North Africa, and the entire Arctic. It was compiled from 15 satellite passes made by Suomi-NPP on May 26, 2012. The spacecraft circles the Earth
from pole to pole
at an altitude of 824 kilometers (512 miles), so it takes multiple passes to gather enough data to show an entire hemisphere without gaps in the view.
~~~~~~~~~~~~~~~~~~~~~~~~~~~
Sunday, June 24, 2012
MILLION-DOLLAR DEAL DAY
On this day in 1916, the most lucrative movie contract to the time (and for a long time to come) was signed by actress
Mary Pickford
. She inked the first seven-figure Hollywood deal. Pickford would get $250,000 per film with a guaranteed minimum of $10,000 a week against half of the profits, including bonuses and the right of approval of all creative aspects of her films. It cost $1,040,000 and two years of movie making for Adolph Zukor at Paramount Pictures.
Mary Pickford was the subject of many Hollywood firsts other than this million-dollar deal. She was Hollywood's first bankable name, commanding a star-status salary of $275 a week as early as 1911, and $500 a week in 1913 when producer B.P. Schulberg named her America's sweetheart.
Her signature curls were the first film fashion fad. (After the million-dollar deal, she had more curls added by makeup artist George Westmore, who used hair from Big Suzy's French Whorehouse's ladies of the evening.)
Pickford starred in the first screen play (The New York Hat) written by now-famous playwright Anita Loos. And, along with Norma and Constance Talmadge and her husband, Douglas Fairbanks, Mary was the first to leave footprints in the cement fronting Hollywood's Grauman's Chinese Theatre. She was also one of the first women in Hollywood to gain control over her own movies, forming her own production company, United Artists, with Douglas Fairbanks, D.W. Griffith and Charlie Chaplin. Mary Pickford sold her stock in United Artists in 1956.
America's sweetheart won her first Oscar for Coquette [1928-29]. In 1975 she received a special Academy Award recognizing her legacy to the world of film.
Not a bad deal for the former vaudeville and stage actress, who once appeared on Broadway with Cecil B. DeMille in The Warrens of Virginia for a measly $25 a week.
~~~~~~~~~~~~~~~~
The Perfect Girl"
A friend asked a gentleman how it is that he never married.

Replied the gentleman, "Well, I guess I just never met the right woman... I guess I've been looking for the perfect girl."

"Oh, come on now," said the friend, "Surely you have met at least one girl that you wanted to marry."

"Yes, there was one girl...once. I guess she was the one perfect girl...the only perfect girl I really ever met. She was just the right everything..I really mean that she was the perfect girl for me."

"Well, why didn't you marry her," asked the friend.

"She was looking for the perfect man," he said.

This is Rex Barker reminding you that none of us are perfect, so it is counter-productive to look for someone who is. What we should be looking for in a marriage is where each person elevates the other to reach his or her true potential. This happens when you love each other, respect one another, share common values and inspire each other.
~~~~~~~~~~~~~~~~~~~~~~~~~~~~~~~~~~~~~~~~~~~~~~
~~~~~~~~~~~~~~~~~
Baby Grevy's Zebra - Cincinnati Zoo
~~~~~~~~~~~~~~~~~~~
Beach Fun
~~~~~~~~~~~~~~~~~~~~
In case you wondered, Father's Day is to thank Dad for nailing your mother.
Mother's Day is to thank Mum for not swallowing you.
~~~~~~~~~~~~~~~~~~~~~
I guess you could honestly say that the man you are about to read about is a real nut. Thomas Hatfield, 30, of Ohio is a felon who has previous convictions for aggravated riot and attempted aggravated arson from 1997.
Because of these convictions he must live with certain restrictions, one of these being he cannot be in possession of any firearms. That apparently is one he had a hard time sticking to, considering the weapons he was found with.
However, the Ohio judge who heard his case said he likely will not jail Hatfield whose firearm possession violation cost the man a testicle.
Hatfield pleaded guilty in Cincinnati to being a felon with a firearm after he accidentally shot off one of his own testicles with a .38-caliber semiautomatic handgun.
Police said Hatfield was also in possession of a single-shot 12-gauge shotgun.
"Because you injured yourself, that's kind of bad enough right there, so I'll consider probation," Hamilton County Common Pleas Judge Robert Ruehlman told Hatfield after his guilty plea.
"Obviously," the judge told Hatfield, "you don't know a whole lot about firearms. You need to read the directions."
That's good advice to a man who is not even legally allowed to be in possession of one!
Ahhhh ~ another one-horned bull
~~~~~~~~~~~~~~~~~~~~~~~~~~~~~
~~~~~~~~~~~~~~~~~~~
It's a deal that has worked throughout human history: Your parents take care of you when you are little and you return the favor when they are old.
But sometimes the usual arrangement is turned on its head.
Maria Garcia is 87 years old. After a rich and rewarding life, she is now suffering from dementia. The person she depends on more than anyone else in the world… is her mother.
Her mother, Rosario Schielzeth, turned 104 this week. Her daughter had to be reminded every few minutes who the birthday balloons were for. And Rosario didn't mind answering, every time.
"She has the patience of a saint," says Maria's son and Rosario's grandson, Albert Garcia.
~~~~~~~~~~~~~~~~~~~~~~~~
~~~~~~~~~~~~~~~~~
[After the Battle of Belmont,] Grant went into a cabin and lay down on a sofa to rest, but he was there only a moment. He got up almost immediately to see what was happening on deck. As he rose a musket ball cut cleanly through the boat's wooden side and splintered the head of the sofa where he had been lying. And still we waste ink and paper in trying to prove that there is no such thing as luck!
– W.E. Woodward, Meet General Grant, 1928
~~~~~~~~~~~~~~~~~~
The money went flying in the air
~~~~~~~~~~~~~~~~~~~~
~~~~~~~~~~~~~~~~~~~
~~~~~~~~~~~~~~~~~~~~~~
Happy Father's Day, Neatoramanauts! To help you celebrate, here's a video clip of a male seahorse becoming a daddy by doing something that moms usually do: giving birth.
~~~~~~~~~~~~~~~~~~~