When you are trying to create a version of yourself that will one day make you happy,

half the battle is know your insides — know your pleasures.

And the other half is to know your outsides — to find allies, partners, mentors.

You don't become yourself by yourself.

You become you, boosted on others' shoulders, buoyed by others' smiles.

You may be a singular person, but your success will always be plural.

"

NPR and Radiolab's Robert Krulwich, in his commencement address to the College of the Atlantic.

It's about designing your life, getting up when you're knocked down, and learning for life. It's called "The Chumbawamba Principle". Read the whole thing.

~~~~~~~~~~~~~~~~~~~~~~~~~~~~~~~~~~~~~~~~~~
Dangling from a crane in the Turkish capital of Ankara, the world has its new record-breaking doner kebab, weighing in at 1,198 kilograms.
~~~~~~~~~~~~~~~~~~~~~~~~~~~
Reasons To Be Cheerful, Part 92:
"I don't think people have ever really been in touch with science. They're drawn to it, but they don't know why they're drawn to it. For example, you may be blown away by the structure of something, like a soccer ball or a geodesic dome, with its hexagonal shapes. Or how you can take a strand of hair and can get someone's whole drug history. They're different forms of science, but it's still science."
From the planets to the oceans, GZA plans to cover the gamut of raw science. I can't wait. Seriously. Give it to me now.
~~~~~~~~~~~~~~~~~~~~~
A fun look at the units that underly our number system. (via
TED-Ed
)
~~~~~~~~~~~~~~~~~~~~~~~~~
How
the Tasmanian Tiger
Became the 20th Century's Dodo. Hunters got £1 for every thylacine shot until they were all gone, forever.
~~~~~~~~~~~~~~~~~~~~~~~~~
~~~~~~~~~~~~~~~~~~~~~~~~~~~~
Between 1910 and 1913, surgeon George Levick traveled with Robert Scott through Antarctica on a mission to reach the South Pole. Along the way, Scott's team recorded their observations of Antarctica and its wildlife, observations that were later published in scientific journals. At least, most of the observations were published. Some of Levick's notes ended up being left out of the official journals, only printed in pamphlet form, like some kind of academic Tijuana Bible.
The reason: Those notes were full of Levick's horrified documentation of depraved penguin sex acts—tales so unfit for polite society that Levick actually wrote most of them in Greek, rather than English.
Recently rediscovered and translated, these notes have now been published for the first time in the journal Polar Record. The excerpts printed on the LiveScience site read like something from an addendum to Heart of Darkness.
"This afternoon I saw a most extraordinary site [sic]. A Penguin was actually engaged in sodomy upon the body of a dead white throated bird of its own species. The act occurred a full minute, the position taken up by the cock differing in no respect from that of ordinary copulation, and the whole act was gone through down to the final depression of the cloaca."
In another entry, this one written in English on Dec. 6 of that year, he wrote: "I saw another act of astonishing depravity today. A hen which had been in some way badly injured in the hindquarters was crawling painfully along on her belly. I was just wondering whether I ought to kill her or not, when a cock noticed her in passing, and went up to her. After a short inspection he deliberately raped her, she being quite unable to resist him."
Levick described penguins that waddled about the colony's outskirts terrorizing any straying chicks as "little knots of hooligans" in his pamphlet. "The crimes which they commit are such as to find no place in this book, but it is interesting indeed to note that, when nature intends them to find employment, these birds, like men, degenerate in idleness."
Nik Wallenda completes tightrope walk across Niagara Falls
Tightrope walker Nik Wallenda walks the high wire from the U.S. side to the Canadian side over the Horseshoe Falls in Niagara Falls, Ontario, June 15, 2012.
Reuters reports: Nik Wallenda, a member of the famed "Flying Wallendas" family of aerialists, completed a historic tightrope crossing through the mist over Niagara Falls Gorge on Friday, stepping from a two-inch (5 cm) cable onto safe ground in Canada to wild cheers from onlookers.
Wallenda made the walk from the U.S. side of the falls to the Canadian side, a journey of 1,800 feet (550 meters) over treacherous waters and rocks, in a little more than 25 minutes.
~~~~~~~~~~~~~~~~~~~~~~~~~~
The flashing wristbands (xylobands) passed out by Coldplay for their recent concert -
have been turning themselves back on again - days later.
Coldplay Mylo Xyloto wristband comes back to life.
Xylobands™ are a new unique marketing product.
Fans are welcome to keep their Xyloband as a souvenir - the bands are radio controlled and cannot be reactivated, so we would advise that you remove the batteries and dispose of them responsibly at your local recycling point.
HaHa ~ the techies figured 2 ways to make them work: replaying a recording of the concert's opening song or inserting a paper clip into a small hole in the case of the wristband.
Coldplay Xylobands (Pink And Red) Work With A Paperclip
Coldplay Xyloband Comes Back To Life - "Is There Anybody Out There"?
~~~~~~~~~~~~~~~~~~~~~~~~~~~~~
Tide 'Here's to Dad's who share the load'
Here's our salute to all the Dads who share the load. Share it with your favorite Dad.
~~~~~~~~~~~~~~~~~~~~~~~~~~~~`
Missed by only that much…
Prosecutors plan to look at the case of a Detroit-area man who accidentally shot himself in the groin while adjusting a handgun tucked in his pants…
The unidentified Southfield, Mich., man was working for an heating and air-conditioning company at a job site in Birmingham this week when his .40-caliber Glock pistol went off accidentally.
Deputy Police Chief Mark Clemence told the Detroit Free Press the worker had a permit for the weapon, but the city prosecutor was going to review the matter.
Despite the possibility of criminal charges, Clemence told the newspaper the outcome could have been worse for the victim, who was taken to the hospital by a co-worker.
Yes, there are a few other bits and pieces he may have managed to lop off, as well. The bullet went through his penis and lodged in his thigh – according to other sources.
Thanks, ED ~ love the pic!
~~~~
Jeanne ~ Too bad he missed, eh?
Jeanne ~
LMAO ~ That comment goes in paws *evil grin*
~~~~~~~~~~~~~~~~~~~~~~~~~~~~~~
"Hey, guess who's gay? Green Lantern. His superpower is decorating on a budget." --David Letterman
Pigs Aren't The Only Ones That Wallow In Mud
And while pigs are pretty cute when they get dirty, baby elephants are even more precious.
~~~~~~~~~~~~~~~~~~~~~~~~~
Factory balls
asks you to figure out how to modify each ball to produce the target object posted on the brown box. It has 14 levels that start off easy and get harder as you advance.
Why We Have Personal Space
Feel icky when someone gets too close? Blame your brain! Turns out, the amygdala, the brain region that governs fear, is activated when someone "invades" your personal space:
According to [Caltech psychology and neuroscience professor Ralph Adolphs], we begin to develop our individual sense of personal space around age 3 or 4, and the sizes of our bubbles cement themselves by adolescence. In research published in the journal Nature in 2009, Adolphs and his colleagues determined that the bubbles are constructed and monitored by the amygdala, the brain region involved in fear. "The amygdala is activated when you invade people's personal space," he told Life's Little Mysteries. "This probably reflects the strong emotional response when somebody gets too close to us. We confirmed this in a rare patient with lesions to this brain structure: she felt entirely comfortable no matter how close somebody got to her, and had no apparent personal space." Futhermore, he said, abnormal development of the amygdala may also explain why people with autism have difficulties maintaining a normal social distance to other people. Life's Little Mysteries has the post:
Link
The cutest wrestling match ever occurs when a kitten goes up against a bunny rabbit. I'd call the rabbit as the winner, but both seemed to enjoy the tussle. -via
Daily Picks and Flicks
A puzzle by Angelo Lewis, writing as "Professor Hoffman" in 1893:
A man went into a shop in New York and purchased goods to the amount of 34 cents. When he came to pay, he found that he had only a dollar, a three-cent piece, and a two-cent piece. The tradesman had only a half- and a quarter-dollar. A third man, who chanced to be in the shop, was asked if he could assist, but he proved to have only two dimes, a five-cent piece, a two-cent piece, and a one-cent piece. With this assistance, however, the shopkeeper managed to give change. How did he do it?
The dialogue in this news clip about the "toddlers and tiaras" trend is predictable, banal, and not very informative to the extent that I wound up muting it. But the behavior of the child is interesting. Perhaps she's just a normal five-year-old girl acting up when she sees a camera or monitor. Or maybe she's been in a few too many pageants...
~~~~~~~~~~~~~~~~~~~~~~~~~~~~~~~
Transgender Tax Enforcers
Forget straight-laced tax agents trying to intimidate you into paying taxes. That just won't work with hardened tax evaders of Pakistan, so they've come up with an alternative method: send in the transgender enforcers!
Armed with a bundle of paperwork, the 32-year-old raps on the gate of a mansion while a truck full of guards and tax officials remains at a distance.

The householder grins nervously at Nargis, who is a ''hijra'' - a member of Pakistan's increasingly assertive transgender community. With a sheepish look to see whether anyone is watching from the street, the owner meekly accepts a bill for outstanding property tax and municipal fees.

Given his effusive promises to pay, there is no need for what Qazi Aftab, the local head of tax collection, calls ''the nuclear option'' - clapping, shouting and generally making a scene. ''Because of the neighbours they get very embarrassed,'' he said. ''Usually just one minute of shouting is enough and then they pay up.''
~~~~~~~~~~~~~~~~~~~~~~~~~
As I Mature
I've learned that you cannot make someone love you. All you can do is stalk them and hope they panic and give in.
I've learned that no matter how much I care, some people are just assholes.
I've learned that it takes years to build up trust, and it only takes suspicion, not proof, to destroy it.
I've learned that you can get by on charm for about fifteen minutes, After that you better have a huge schlong.
I've learned that you can keep vomiting, long after you think you're finished.
I've learned that we are responsible for what we do, unless we are celebrities.
I've learned that regardless of how hot and steamy a relationship is at first, the passion fades, and there had better be a lot of money to take its place!
I've learned that 99% of the time when something isn't working in your house, one of your kids did it.
I've learned that the people you care most about in life are taken from you too soon, and all the less important ones just never go away.
"A new survey found that half of all American employees have faked a sick day. While the other half have just lied on a survey." -Jimmy Fallon
~~~~~~~~~~~~~~~~~~~~~~~~~~~~~
"A newspaper is a thing that people used to read. It's like a website, but all the information is from yesterday." -Craig Ferguson
~~~~~~~~~~~~~~~~~~~~~~~
There has been a lot of talk about conserving energy. Like keeping the thermostat down in the winter. Using low energy bulbs. Turning off lights. Using less gas. It made me realize, my dad was like the first environmentalist. He would walk around the house yelling, 'turn off those lights! Turn the heat down!' He was green before his time." -Jay Leno
Fascinating Illustrations By Anatoly Fomenko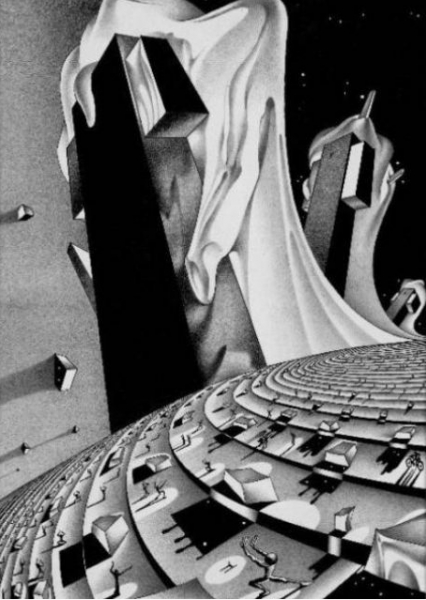 Russian mathematician Anatoly Fomenko creates illustrations which are both expressions of mathematical concepts and visual depictions of his innermost thoughts and emotions.
With razor sharp use of perspective, abstract imagery and many shades of gray, Anatoly's works are at once amazing and confounding, and would look right at home on the cover of a Pink Floyd album.
You can take your eyes on a long, strange trip through Anatoly's works at the Juxtapoz link below, and try not to get lost in there!
Link
–via
Juxtapoz
~~~~~~~~~~~~~~~~~~~~~~
The 10 Weirdest Thefts Ever
Imagine looking out at your front yard one day and realizing your lawn is missing. That's just what happened to Denise Thompson: It was where her four children and two dogs played, and where she drank coffee on sunny mornings. Then someone stole it. They didn't even leave a note. Thompson and her children went away to visit her husband one morning. They returned to their Kilkenny neighborhood home. The family entered through the back door and everything seemed fine. Then Thompson opened the blinds on the large picture window in the front room. Oh my God, she thought, where is my grass?
She went outside to the swath of ugly, brown dirt that had replaced her lawn. She thought there might be a note to explain an accident, like when someone dings your car in the mall parking lot. There were no clues. Thompson canvassed neighbors and several reported a white truck and trailer parked at her house. No one thought it was suspicious. Just another landscaping job.
And believe it or not, that's not even the weirdest theft story on this list!
Link
As I serviced an alarm system at a jewelry store recently, the saleswoman let me know that the store was having a 20 percent off sale.




"I bet your girlfriend would love it if you bought her something." she suggested.




"I don't have a girlfriend," I answered.




"No girlfriend? Why not?"




"My wife won't let me."


~~~~~~~~~~~~~~~~~~~~
QUOTE: "You cannot dream yourself into a character; you must hammer and forge yourself one."
HINT: (1818-1894), English historian, novelist, biographer, and editor of Fraser's Magazine.
~~~~~~~~~~~~~~~~~~~~~~~~
~~~~~~~~~~~~~~~~~~~~~~~~~~
David Gallo shows jaw-dropping footage of amazing sea creatures, including a color-shifting cuttlefish, a perfectly camouflaged octopus, and a Times Square's worth of neon light displays from fish who live in the blackest depths of the ocean.
~~~~~~~~~~~~~~~~~~~~~~
~~~~~~~~~~~~~~~~~~~~~~~~~
~~~~~~~~~~~~~~~~~~~~~~~~
What do you do when someone suddenly decides that they're the next messiah? Jerusalem Syndrome is a fairly well-known phenomenon. It happens when otherwise normal people suddenly become sure they're the chosen one — often while they're visiting Jerusalem. And there are actual specialists in this particular medical area. Find out how they treat the many Jesuses (Jesi?) they encounter.
~~~~~~~~~~~~~~~~~~
~~~~~~~~~~~~~~~~~~~~~~~~
~~~~~~~~~~~~~~~~~~~~~~