We cannot change the cards we are dealt,
Just how we play the hand.
~ Randy Pausch
~~~~~~~~~~~~~~~~~~~~~~~~~~~~~~~~~~~~~~~~~
2012 November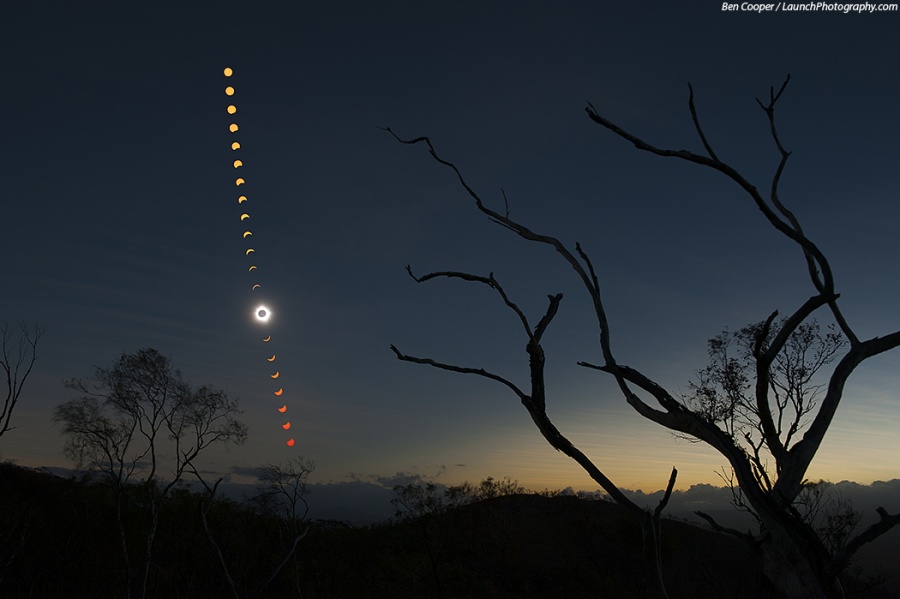 Moon Shadow Sequence
Image Credit & Copyright:
Ben Cooper
(
Launch Photography
)
Explanation: On the morning of November 14,
the Moon's umbral shadow
tracked across northern Australia before heading into the southern Pacific. Captured from a hilltop some 30 miles west of the outback town of Mount Carbine, Queensland, a series of exposures follows the progress of the
total solar eclipse
in this
dramatic composite image
. The sequence begins near the horizon. The Moon steadily encroaches on the reddened face of the Sun, rising as the eclipse progresses.
At the total phase
, lasting about 2 minutes for that location, an otherwise faint
solar corona
shimmers around the eclipsed disk. Recorded during totality, the background exposure shows a still sunlit sky near the horizon, just beyond a sky darkened by
the shadow of the Moon
.
2012 November
Meteor and Moonbow over Wallaman Falls
Image Credit & Copyright:
Thierry
Legault
Explanation: Which feature takes your breath away first in this encompassing panorama of land and sky? The competition is strong with a waterfall, meteor, starfield, and even a
moonbow
all vying for attention. It is interesting to first note, though, what can't be seen -- a rising moon on the other side of the camera. The bright moon not only illuminated
this beautiful landscape
in
Queensland
,
Australia
last June, but also created the beautiful
moonbow
seen in front of
Wallaman Falls
. Just above the ridge in the
above image
is the horizontal streak of an airplane. Toward the top of
the frame
is the downward streak of a
bright meteor
, a small pebble from across our Solar System that lit up as it entered the Earth's atmosphere. Well behind the meteor are numerous bright stars and nebula seen toward the
center of our Galaxy
. Finally, far in the background, is the band of our
Milky Way Galaxy
, running diagonally from the lower left to the upper right in the image but also
circling
the entire sky.
Baily's Beads near Solar Eclipse Totality
Image Credit & Copyright:
Leonid Durman
Explanation: Just before the Sun blacks out, something strange occurs. As the Moon moves to completely cover the Sun in a
total solar eclipse
-- like the
one set
to occur over parts of Australia
on Tuesday
-- beads of
bright sunlight stream
around the edge of the Moon. This effect, known as
Baily's beads
, is named after
Francis Baily
who called attention to the
phenomenon
in 1836. Although, the number and brightness of
Baily's beads
used to be unpredictable, today the Moon is so well mapped that general features regarding Baily's beads are expected. When a single bead dominates, it is called the
diamond ring effect
, and is typically seen just before totality. Pictured above, horizontally compressed, a series of images recorded Baily's beads at times surrounding the
2008 total solar eclipse
visible from
Novosibirsk
,
Russia
. At the end of totality, as the Sun again emerges from behind the moon,
Baily's beads
may again be visible -- but now on the other side of the Moon.
Eagles may soar, but weasels don't get sucked into jet engines.
~~~~~~~~~~~~~~~~~~~~~~~
Applying computer technology is simply finding the right wrench to pound in the correct screw.
"The first time I see a jogger smiling, I'll consider it."

- Joan Rivers


~~~~~~~~~~~~~~~~~~
"I'm not a real movie star. I've still got the same wife I started out with twenty-eight years ago."

- Will Rogers


~~~~~~~~~~~~~~~~~~
"Silent gratitude isn't much use to anyone."
- Gladys Bronwyn Stern
If you're going to learn lessons about life there is no greater man to learn from than Mr. George Feeny (William Daniels). Wise beyond his years. Plus, he was the voice of K.I.T.T on 'Knight Rider' for crying-out-loud! Why wouldn't you listen to him?
Thanksgiving is called Turkey Day by many and the turkey is clearly a part of our holiday culture.
Since their return from the brink of extinction in the 1930's, Wild Turkeys are now flourishing across the US.
But how much do you know about this all-American bird? Ever see a turkey's snood? Hear a turkey gobble?
~~~~~~~~~~~~~~~~~~~~~~~~~~~~~~
At Thanksgiving, many of us are faced with choosing our favorite part of the traditional bird. Some of us prefer the legs and thighs for their dark meat, while others opt for the whiter breast meat.
We know which kind of meat we like best, but few of us know the reason for the difference.
~~~~~~~~~~~~~~~~~~~~~~~~~~~~~~~~~
The things you hate the most might just be the things that mean the most

.
~~~~~~~~~~~~~~~~~
A puzzle by Polish mathematician Paul Vaderlind:
Andre Agassi and Boris Becker are playing tennis. Agassi wins the first set 6-3. If there were 5 service breaks in the set, did Becker serve the first game?
(Service changes with each new game in the 9-game set. A service break is a game won by the non-server.)
If there were 9 games in the set, then one player served 4 games and one served 5. Suppose Agassi served 4 games and Becker had k service breaks. That would mean that Agassi won 4-k of the games in which he served, and 5-k of the games in which Becker served (because there were 5 service breaks altogether). Then Agassi would have won a total of (4-k) + (5-k) = 9-2k games, an odd number. But we know that Agassi won 6 games, so this is a contradiction. Hence Agassi must really have served 5 rather than 4 games, and therefore he served the first game.
From The Inquisitive Problem Solver, 2002.
~~~~~~~~~~~~~~~~~~~~~~
drogulus
n. an entity whose presence is unverifiable because it has no physical effects
A.J. Ayer coined this word spontaneously while describing his "principle of verification" during a 1949 broadcast:
Suppose I say, 'There's a drogulus over there' and you say ... 'What's a drogulus?' 'Well,' I say, 'I can't describe what a drogulus is, because it is not the sort of thing you can see or touch. It has no physical effects of any kind, but it's a disembodied being.' And you say, 'Well, how am I to tell if it's there or not?' and I say, 'There's no way of telling. Everything's just the same if it's there or it's not there. But the fact is it's there. There's a drogulus there standing just behind you.' Does that make sense?
"Talk about obscure words!" writes lexicographer Norman Schur. "Have we finally met the man who wasn't there?"
As I was going up the stair
I met a man who wasn't there.
He wasn't there again today.
I wish, I wish he'd stay away.
Curiously, Ayer himself seems to have confirmed at least one sighting. In 1959, Lionel Penrose wrote in New Biology, "I had difficulty in finding a suitable name for the activated complexes produced in [certain] experiments. On showing one of them to Professor A. J. Ayer, I inquired whether it perhaps might be a 'drogulus' ... He replied that it was undoubtedly a 'drogulus'."

F.W.H. Myers, whom spiritualism had converted to belief in a future life, questioned a woman who had lately lost her daughter as to what she supposed had become of her soul. The mother replied: 'Oh, well, I suppose she is enjoying eternal bliss, but I wish you wouldn't talk about such unpleasant subjects.'
-- Bertrand Russell, "An Outline of Intellectual Rubbish," 1943
~~~~~~~~~~~~~~~~~~~~~~`
Random fact of the day. Bananas aren't just radioactive; their radioactivity has spawned its own unit of measurement of radioactivity. The banana equivalent dose (abbreviated BED).

~~~~~~~~~~~~~~~~~~~
It all makes sense now: Gay marriage is legalized on the same day that marijuana is.

The Bible tells us:

Leviticus 20:13: "A man who lays with another man should be stoned."

Our interpretation has just been wrong for all these years.
Thanks, Mike
AMNESIA:
Condition that enables a woman who has gone through labor to have sex again.
A small boy walks into his mothers room and catches her topless.
"Mummy, mummy, what are these?" he says, pointing to her breasts.
"Well, son," she says, "these are balloons, and when you die, they inflate and float you up to heaven."
Incredibly, he appears to believe this explanation and goes off quite satisfied.
Two days later while his mother is making tea, he rushes into the kitchen.
"Mummy, mummy, Aunt Mary is dying!"
What do you mean? says his mother.
Well she's in the garden shed, lying on the floor. Both her balloons are out, Dad's blowing them up, and she keeps yelling "God, I'm coming! I'm coming!!!"
~~~~~~~~~~~~~~~~~~~

Lonesome One
I didn't realize how lonely I was, until I decided my favorite sexual position was right-handed.
If You Want Something Done Right
When our lawn mower broke and wouldn't run, my wife kept hinting to me that I should get it fixed. But, somehow I always had something else to take care of first, the shed, the boat, making beer... always something more important to me. Finally she thought of a clever way to make her point.
When I arrived home one day, I found her seated in the tall grass, busily snipping away with a tiny pair of sewing scissors. I watched silently for a short time and then went into the house. I was gone only a minute, and when I came out again I handed her a toothbrush. I said, "When you finish cutting the grass, you might as well sweep the driveway."
The doctors say I will walk again, but I will always have a limp.
"Black Friday is the day after Thanksgiving when you find real bargains. It works on our innate desire to save money and to get away from your family after Thanksgiving." -Craig Ferguson


~~~~~~~~~~~~~~~~~~~



"A new report suggests that Christopher Columbus may have secretly been Jewish. What tipped historians off was Columbus' diary entry where he described his journey to America as 'a real schlep.'" -Conan O'Brien


~~~~~~~~~~~~~~~~~~~~



"The U.S. Postal Service announced yesterday they are expecting this year's holiday season to be their busiest ever and also their slowest ever. That's probably the only business in America that complains about being busy." -Jimmy Kimmel


~~~~~~~~~~~~



One snowy evening my brother, a regional police officer, stopped a car at a roadside check for drunk drivers. "Good evening, ma'am," he greeted the lady. "How are you this evening?"




"Fine, thank you," she replied.




My brother continued, "Anything to drink this evening?"




Surprised, the lady answered, "Uh...no, thank you."


~~~~~~~~~~~~~~~~~~~
Some people bend over backward not to insult others. A while ago, I overheard my sister, a travel agent, confirm her client's flight this way: "Your confirmation code is F as in Foxtrot, R as in Romeo, and I as in, uuuh, Native American."
There is no point in doing more efficiently that which should not be done at all.

--Peter Drucker


~~~~~~~~~~~~
If one does not know to which port one is sailing, no wind is favorable.

--Seneca


~~~~~~~~~~~~~~~
Reverie is when ideas float in our mind without reflection or regard of the understanding.
--John Locke
The sinews of war are infinite money.

--Cicero


~~~~~~~~~~~~~~~~~
Optimism is the faith that leads to achievement; nothing can be done without hope.~
Helen Keller
Lazlo's Chinese Relativity Axiom:
No matter how great your triumphs or how tragic your defeats---
approximately one billion Chinese couldn't care less.
~~~~~~~~~~~~~~~~~~~~~~~~~~~
~~~~~~~~~~~~~~~~~~~~~~~~~~~~~
To Serve and Protect.
We have all heard or read that phrase before. It is the unofficial motto of many police departments. But unfortunately there is an increasing frequent addendum to that phrase which goes, "...our own asses."
And apparently that modified motto now often involves a good tasing. Take the example of this Florida man.
When a fire broke out in Dan Jensen's neighbor's house, Dan called 911 and then ran outside to assess the situation. Seeing that the fire was creeping toward his own fence 10 feet away, he grabbed his garden hose and started spraying.
The police proved faster than the fire department, and when they showed up they ordered Jensen to get back. He complied. But as the minutes trickled by and the fire engine didn't show up, Jensen became frustrated and stepped forward to grab the garden hose once again.
That's when he heard the order. "Hit 'em! Take him down! Tase him!" In moments, Jensen was on the ground.
The 42-year-old commercial fisherman is still struggling to comprehend exactly how things deteriorated so quickly. He said he doesn't understand why police shot him with a Taser as he tried to save his own house from a fire.
Police said they can sympathize with the stress Jensen was under. But they said he put himself and officers in danger when he refused to back down.
Jensen's attorney said she believes authorities are trying to deflect attention from their actions that night. She called the Taser use "excessive force."
"They can't just Taser anyone," she said. "He's an unarmed person on his private property trying to fight a fire."
It could be worse, according to police. Pinellas Park Capt. Sanfield Forseth said authorities could have even charged Jensen with obstruction, but decided against it.
So he's got that going for him. Which is nice.
Man finds $20,000 in dumpster
MARLBORO, Mass. - A Massachusetts man said he discovered more than $20,000 in a dumpster while looking for magazines to turn into art projects. The Marlboro man, a Brazilian immigrant who asked for his name not to be printed, said he visits the Wellesley dump about twice a week to search for magazines to turn into art, and during a visit last month he found a book with $20,000 to $30,000 pressed between its pages, WHDH-TV, Boston, Mass., reported Tuesday. The man said he is trying to find the rightful owner of the cash and has pledged to search for six months before deciding whether to keep the money. "This book is a lot of history there," he said. "My point of view is, I want to see because if someone maybe who separated the money to buy a house, put a down payment for the house. What if that happened to me, if it was me? I'm going to go crazy, alright?"
QUOTE: "Ordinary riches can be stolen, real riches cannot.
In your soul are infinitely precious things that cannot be
taken from you."
HINT: Irish playwright, novelist, poet, short story writer.
He was one of the most successful playwrights of late
Victorian London
ANSWER: Oscar Wilde
~~~~~~~~~~~~~~~~~~~~~~~~~~~~~
RANDOM TIDBITS
There are 119 grooves on the edge of a quarter.
There are about 3,000 hot dog vendors in metropolitan New York.
The loop on a belt that holds the loose end is called a "keeper."
The kings in a deck of cards each represent a great king from history. The king of spades is King David, the king of clubs is Alexander the Great, the king of hearts is Charlemagne, and the king of diamonds is Julius Caesar.
The LEGO company was founded by Ole Kirk Christiansen in Billund,Denmark, in 1916. Today it has over 9,000 employees worldwide. The Danish words Leg and Godt were put together to make "LEGO." Later, it was discovered that in Latin, the term "Lego" means "I put together" or "I assemble."
"The Star-Spangled Banner," written by Francis Scott Key, is ranked the most difficult national anthem on Earth to sing.
Q: What mouse walks on two legs?
A: Mickey Mouse!
Q: What duck walks on two legs?
A: All ducks walk on two legs!
~~~~~~~~~~~~~~~~~~~~~~~~~
~~~~~~~~~~~~~~~~~~~~~~~~~~~
~~~~~~~~~~~~~~~~~~~~~~~~~~
Trivia Tidbit:Q: When was the last time Republicans won White House without Nixon or a Bush on ticket? A: In 1928 when Herbert Hoover was elected.
Boy takes his parents' savings, $4,000 – spends it on candy
"The disappearance [of the money] was first spotted by his father. He opened the stash and saw it was empty," said Tatyana Kushnerova of the Konotop, Ukraine police department.
After an argument, the son admitted taking the money during his autumn school holiday, $3,300 in U.S. cash and about 600 euros, converting it to Ukrainian hryvnas with the help of an adult acquaintance and spending it on candy, which he shared with friends…
Thnks Ed
3 Things Every Great Leader Gets Wrong
Think you're a great leader? Make sure you aren't guilty of one of these three reality-distorting traits.
1. The time needed to do things.
2. The relative importance of people and ideas.
3. What other people hear you say.
Thanks Dana
As Jane's tits brushed Robert's chest,
Her belly on his came to rest,
And she gave him a grin,
As his penis slipped in,
To begin what both loved doing best.
Abbreviation for: you only live once
The dumbass's excuse for something stupid that they did
Also one of the most annoying abbreviations ever....
-- New York Times, Sept. 1, 1946
I was on a Reno Air flight from San Jose to Las Vegas and the plane was taxiing to take off. The flight attendant came on the intercom and said, "For those of you currently reading our in-flight magazine, please place it back in the seat pocket in front of you, as it is for IN-FLIGHT only."
When just about everyone had boarded the plane, the flight attendant made a brief announcement. She said,"to the gentleman in seat 18F don't worry about your bag, you will get it back just as soon as we are done going through it."
Later on, once we were airborne, he came back and said, "If you're sitting on the right side of the plane, look out the window and you will see big, white, fluffy clouds. If you're on the left side of the plane, you'll see ... big, white, fluffy clouds. Directly beneath you is...your luggage."

Once we landed, he told us to remain seated with our seatbelts fastened until we were fully stopped at the gate. Just as we were about to reach the gate, he said, "Don't even think about it!" He also said, "We have a man onboard who is celebrating his 100th birthday and this is his first flight! It is also probably his last flight." ('Boo's' from the passengers.)
"So please, when you walk by the cockpit , wish the pilot a happy birthday."
~~~~~~~~~~~~~~~~~~~
BILL AND HIS GIRLFRIEND
Bill was out golfing when He accidentally overturned his cart.
Hearing the crash, a woman who lived on the golf course came out of her house and yelled over to him.
"A few cuts and bruises," he said, "but nothing seems broken."
"Come up to the house and let's get some bandages," she said.
"No," he said. "My Girlfriend wouldn't like that."
"You're hurt!" she insisted. "Come in!"
She got some antiseptic and bandages and cleaned him up, but he was in obvious pain.
"Do you want a drink?" she asked.
"I'd love one," he said, "but my Girlfriend would be
"Nonsense!" she said, pouring a drink. "You're in obvious pain, and you need something."
As she tended to him he became aroused and she noticed. She began taking off her clothes.
"Wait!" he said. "My Girlfriend will be furious!"
"Don't be silly," she said. "You've had a trauma and this will be better than anesthesia."
Afterwards, he began to dress quickly.
"Where are you running off to?" she asked.
"My Girlfriend is going to kill me!" he said.
"She'll never know anything happened," said the woman. "Where is she, anyway?"
"Under the golf cart," he said.
Book-Vending Machine Dispenses Suspense
The "Biblio-Mat" is about the size of a refrigerator and painted vintage pistachio green with chrome accents. On the front, in old-style lettering, it reads: "Every book a surprise. No two alike. Collect all 112 million titles."
Interesting bit: Hand Shadows tickle your brain. Hand shadow puppets activate a region of the human brain called the
Broca's area
. This area is linked to language production.
Random Facts:
The rockets mentioned in "The Star Spangled Banner" were less effective than bombs. They had a shorter range and were so inaccurate that they had to be abandoned as weapons after the War of 1812. Not until World War II did rockets become important.
The Pentagon is the world's largest office building, a city in itself. With an area of 6,500,00 square feet the Pentagon has a Main Street lined with shops, restaurants and its own post office.
Letter to the New York Times, March 26, 1911:
i Went down town with my daddy yesterday to see that terrible fire where all the littel girls jumped out of high windows My littel cousin Beatrice and i are sending you five dollars a piece from our savings bank to help them out of trubble please give it to the right one to use it for sombody whose littel girl jumped out of a window i wouldent like to jump out of a high window myself.
Is this woman spinning clockwise or counterclockwise?
A man is sitting at the bar in his local tavern furiously pounding shots of whiskey. His friend happens to come into the bar and sees him.
"Lou," says the shocked friend, "what are you doing? I've known you for over fifteen years, and I've never seen you take a drink before. What's going on?"
Without even taking his eyes off his newly filled shot glass, the man replies, "My wife just ran off with my best friend."
He then throws back another shot of whiskey in one gulp.
"But," says the other man, "I'm your best friend!"
The man turns to his friend, looks at him through bloodshot eyes, smiles and then slurs, "Not anymore!"
The phone rings, and the wife answers.
A pervert, with heavy breathing, says, "I bet you have a tight ass with no hair?"
Woman replies, "Yes I do, he's watching TV - who shall I say is calling?"
"Researchers are developing a stay-sober pill that will prevent you from getting drunk off of alcohol. It's perfect for the drinker who wants all the calories of alcohol but none of the fun." -Conan O'Brien


~~~~~~~~~~~~~~~~~~~~




"I went out to vote. I was in line for four hours. And then it turned out later that it was a gas line." -Dave Letterman


~~~~~~~~~~~~~~~~
"
Never
let
the
truth
get
in
the
way
of
a
good
story
.."
DS
(
and
her
dad
)
"

Truth

is

mighty

and

will

prevail

.

There

is

nothing

the

matter

with

this

,

except

that

it

ain't

so

."


Samuel

Clemens

-

Notebook

,

1898
~~~~~~~~~~~~~~~~~~~~~~~~~~~~~~~




"I'm not buying any Christmas gifts until December 22 because that Mayan thing says the world is ending on the 21st. If it happens, I don't want to have wasted money on gifts." -Craig Ferguson


~~~~~~~~~~~~~~~~~~
In honor of Memorial Day, the teacher I worked with read the Constitution to her third-grade class. After reading "We the people," she paused to ask the children what they thought that meant.
One boy raised his hand and asked, "Is that like 'We da bomb?'"
QUOTE: "Happiness arises in a state of peace, not of tumult."
HINT: (1764-1823), English author, and a pioneer of the Gothic novel.
"Kids will get a hoot out of these sweet treats, made with cake mix, frosting and candy." Prep Time: 40 Minutes. Ready In: 3 hours 40 Minutes. Makes 30 servings. Printed from Safeway.com, Submitted by Safeway
2 boxes Betty Crocker® SuperMoist®

devil's food or yellow cake mix

Water, vegetable oil and eggs called for

2 containers Betty Crocker® Rich &

Creamy chocolate frosting

1/4 cup Betty Crocker® Rich & Creamy

6 creme-filled chocolate sandwich

8 candy-coated peanut butter pieces (6

4 banana-shaped hard candies

2 banana stretchy and tangy taffy
| | |
| --- | --- |
| 1. | Heat oven to 325°F. Grease 1 1/2-quart ovenproof bowl (8 inches across top) and two 8-inch round cake pans with shortening; coat with flour (do not use cooking spray). Place paper baking cups in 2 regular-size muffin cups. |
| 2. | In large bowl, make batter for both cake mixes as directed on boxes. (Two boxes of cake batter can be made at one time; do not make more than 2 boxes, and do not increase beating time.) Pour 3 3/4 cups batter into 1 1/2-quart bowl. Pour 2 1/2 cups batter in each cake pan. Divide remaining cake batter between 2 muffin cups, filling two-thirds full. |
| 3. | Bake muffin pan 17 to 21 minutes, cake pans 23 to 30 minutes and bowl 47 to 53 minutes or until toothpick inserted in center comes out clean. Cool 10 minutes. Remove cakes from pans and bowl; place rounded sides up on cooling racks. Cool completely, about 1 hour. Freeze cakes 45 minutes before cutting to reduce crumbs, if desired. If necessary, cut off rounded tops of cakes. |
| 4. | Place one 8-inch cake on serving plate; spread 1/3 cup chocolate frosting over top. Top with bowl cake layer, cut side down. Use photo as a guide to cut remaining 8-inch cake into owl's head and wings. Use 2 skewers inserted through cake layers at ears to keep head up. Press cut wing shapes against the body. Spread thin layer of chocolate frosting over sides and top of layered cake to seal in crumbs. Freeze cake 30 to 45 minutes to set frosting. |
| 5. | Spoon 1/4 cup vanilla frosting into small bowl. Stir in 2 tablespoons chocolate frosting to make light brown. Spread over belly area of owl cake with downward strokes to make ruffled look. Twist creme-filled chocolate cookies open, leaving creme on one side of each. Discard remaining sides. Press 2 cookies onto owl cake to make eyes. Press 1 brown peanut butter candy on each cookie to make pupil. Place banana-shaped hard candies on base of owl body to make feet. Flatten banana-shaped taffy candy; cut into 2 large triangles, and press onto owl's face to make beak. |
| 6. | To make baby owls, frost cupcakes with chocolate frosting, making slight peaks for horns. Press 2 chocolate cookies on each cupcake to make eyes. Press 1 brown peanut butter candy on each cookie to make pupil. Add 1 orange peanut butter candy to each to make nose. Remove toothpicks before serving. Store loosely covered. |
Copyright © 2010 Safeway.com Inc. All rights reserved.
~~~~~~~~~~~~~~~~
~~~~~~~~~~~~~~~~~~~~~~
A close approximation to Fireball can be made easily at home by adding cinnamon sticks, chilli peppers and sugar into a whisky bottle, and letting it sit for a week, and removing the spices afterwards.
~~~~~~~~~~~
~~~~~~~~~~~~~~~
~~~~~~~~~~~~~~~~~~~~~
~~~~~~~~~~~~~~~~~~~
~~~~~~~~~~~~~~~~~~~~
~~~~~~~~~~~~~~~~~~
~~~~~~~~~~~~~~~~~~~~
~~~~~~~~~~~~~~~~~
~~~~~~~~~~~~~~~~~~~~
"The

GIF

, a compressed file format for images that can be used to create simple, looping animations, turned 25 this year, but like so many other relics of the 80s, it has never been trendier," notes Katherine Martin, Head of the US Dictionaries Program at Oxford University Press USA. "

GIF

celebrated a lexical milestone in 2012, gaining traction as a verb, not just a noun. The

GIF

has evolved from a medium for pop-cultural memes into a tool with serious applications including research and journalism, and its lexical identity is transforming to keep pace."

Indeed,

GIFING

has had an amazing year in 2012. In January the New York Public Library launched

stereogranimator

allowing visitors to create GIFs of 40,000+ digitized stereographs from its collection and share them. Then in March

Tumblr hit 20 billion blog posts

. July saw the 20

th

anniversary of the first GIF posted on the

World Wide Web, a photograph of the band

"Les Horribles Cernettes". In August GIFing was perfect medium for sharing scenes from the Summer Olympics in London, especially this

coverage of the vault

from

The Atlantic

. Most recently many media outlets were

live-GIFing

the 2012 presidential debates.
~~~~~~~~~~~~~~~~~~
~~~~~~~~~~~~~~~~~~~~
~~~~~~~~~~~~~~~~~~
~~~~~~~~~~~~~~~~~~
~~~~~~~~~~~~~~~~~~~~~~~
If you want to really understand how something is made, it is often a good idea to take it apart, piece by piece. With some things, like watches and cars, it helps if you also know how to put them back together again. If what you want to understand is a human or an animal body, it has to be dead before you start, but the goal is the same.
~~~~~~~~~~~~~~~~~
~~~~~~~~~~~~~~~~~~~
~~~~~~~~~~~~~~~~~~~~~~
~~~~~~~~~~~~~~~~~~~~
~~~~~~~~~~~~~~~~~~~
~~~~~~~~~~~~~~~~~~
~~~~~~~~~~~~~~~~~~
~~~~~~~~~~~~~~~~~~~~~~~
~~~~~~~~~~~~~~~~~~~~~~~
~~~~~~~~~~~~~~~~~~~~~~
~~~~~~~~~~~~~~~~~
Travel back millions of years in your time machine and you'd find some of these species thriving and looking much as they do today
~~~~~~~~~~~~~~~~~~~~~~
~~~~~~~~~~~~~~~~~
~~~~~~~~~~~~~~~~~~~~~~~~~~~~~~~~
~~~~~~~~~~~~~~~~~~~~~~~
~~~~~~~~~~~~~~~~~~~~~~~~~~
~~~~~~~~~~~~~~~~~~~~~~~
~~~~~~~~~~~~~~~~~~~
RANDOM TIDBITS
Newer U.S. cities that have had room to "spread out" tend to have fewer (and smaller) skyscrapers. The tallest building in Phoenix, the sixth-most-populous American city with 1.5 million inhabitants, is only 40 stories tall.
Chinese architects have been reaching for the sky over the last two decades. In 1988, none of the nation's buildings ranked in the top 20 worldwide. Today, China claims 10 of the 20 tallest skyscrapers on the planet.
Besides the Sears Tower, Chicago is home to three other buildings more than 1,000 feet tall: the Aon Center, the John Hancock Center, and the AT&T Corporate Center. A fourth, Two Prudential Plaza, misses the cut by only 5 feet.
Laws dictate that no structure in the District of Columbia can stand taller than the 555-foot-tall Washington Monument.
When viewing a list of the 20 tallest buildings on Earth, the Empire State Building stands out because of its age. The structure was completed in 1931, nearly 40 years before the next-oldest skyscraper on the list.
The height of the Empire State Building stretches from 1,250 feet to 1,455 feet when you include its antenna. At the very top is a mast that was intended to anchor dirigibles but was never used for that purpose.
~~~~~~~~~~~~~~~~~~~~~~~~~~~~~~
"I do not believe that any man fears to be dead, but only the stroke of death." -- Francis Bacon
-- Ida M. Tarbell, Selections From the Letters, Speeches, and State Papers of Abraham Lincoln, 1911
Up Goer Five

The

wolf

spider

is

the

only

species

of

spider

that

carries

its

offspring

this

way

-

live

,

hatched

and

wriggling

on

her

back!

After

a

gestation

of

9

to

27

days

(

dependant

on

temperature

)

during

which

the

eggs

are

carried

around

in

a

silk

globe

attached

to

the

mothers

stomach

,

the

offspring

hatch

and

climb

on

to

her

back

.

They

stay

there

until

they're

ready

to

hunt

alone

.

Story

via
ScienceAlert
.
~~~~~~~~~~~~~~~~~~~~~
Thanks, Cindy
~~~~~~~~~~~~~~~~~~~~~~~~~~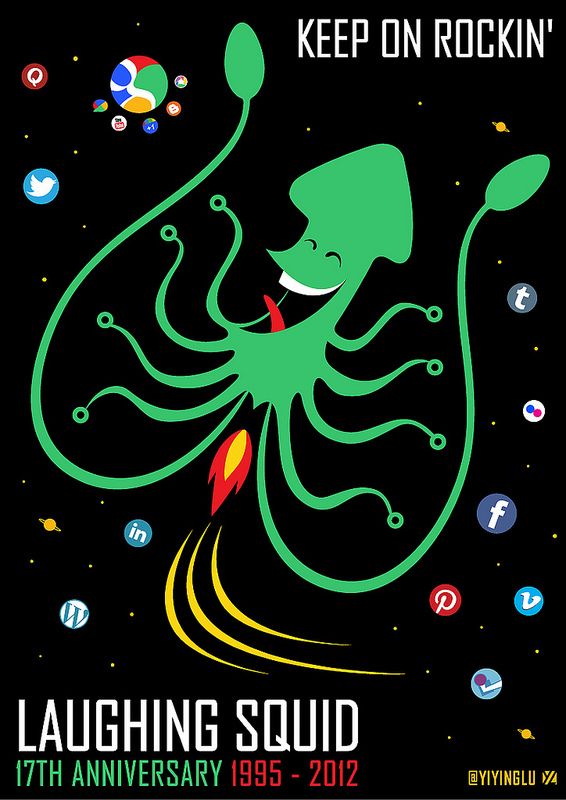 Congratulations to Laughing Squid on the site's 17th anniversary! As a gift, artist
Yiying Lu
, who you may know as the artist behind
Fail Whale
, made this poster. Laughing Squid also posted some relevant links to celebrate the site's evolution since 1995.
Link
~~~~~~~~~~~~~~~~~~~~~~~
~~~~~~~~~~~~~~~~~~~~~~~~~~
~~~~~~~~~~~~~~~~~~~~~~
~~~~~~~~~~~~~~~~~~~
~~~~~~~~~~~~~~~~~~~~~~~
~~~~~~~~~~~~~~~~~~~~~
~~~~~~~~~~~~~~~~~~~~
~~~~~~~~~~~~~~~~~~~
~~~~~~~~~~~~~~~~~~~~
~~~~~~~~~~~~~~~~~~~~
~~~~~~~~~~~~~~~~~~
~~~~~~~~~~~~~~~~~~~~~~~~
~~~~~~~~~~~~~~~~~~~~~
~~~~~~~~~~~~~~~~~~~~~
~~~~~~~~~~~~~~~~~~
~~~~~~~~~~~~~~~~~~~~~
~~~~~~~~~~~~~~~~~~~~~
A policeman cruising past a pub after closing time notices two motor bikes still parked out the front. He goes round the back of the pub only to find two bikies, one with his fingers up the bum of the other.
"So what's going on here?" he asks.
The bikie replies "My mate here has had too much to drink and I'm trying to make him vomit."
"Nagging is the repetition of unpalatable truths." --- Baroness Edith Summerskill
~~~~~~~~~~~~~~~~~~~~~~~~
~~~~~~~~~~~~~~~~~~~~
~~~~~~~~~~~~~~~~~~~~~
~~~~~~~~~~~~~~~~~~~~~~
~~~~~~~~~~~~~~~~~~~~~
~~~~~~~~~~~~~~~~~~~~~~~~~
~~~~~~~~~~~~~~~~~~~~~~~~~~~~~~~~
~~~~~~~~~~~~~~~~~~~
~~~~~~~~~~~~~~~~~~~~~~~~
~~~~~~~~~~~~~~~~~~~~~~~~~~~~
~~~~~~~~~~~~~~~~~~~~~~~~
The Science of 'Morning Wood'
Hey folks, I'm here to point you to all the hard science. Wood you say you are firm in your post-slumber erectile understanding? Bone up on your biology with
AsapSCIENCE
!!!
~~~~~~~~~~~~~~~~~~~~~~~~~~~~~~~~~~~~~
A Pollock walks over the Red Light District in Amsterdam when suddenly he notices a fine looking hooker looking at him. He stops, bangs on the window and says,"So, what does this cost ??!!".
And the hooker replies,"25 dollars !!".
And the Pollock said ,"Hmm, that's not a lot of money for insulated windows !!".
Slovenia's state-run news agency reported on the death of 'passionate' fisherman Franc Filipic, 47, who drowned after hooking a huge lake sheatfish (like a catfish) and refusing to let go as he waded in and was pulled under. Friends reported his last words were 'NOW I've got him!'
Divers found his body after a two-day search.
~~~~~~~~~~~~~~~~~~~~~~~~~~~
The Friskies Awards
Friskies cat food held a competition for the best cat videos on the internet. Over 1400 videos were submitted, and the grand prize was awarded in a ceremony Wednesday night in Los Angeles, featuring cat music and a ballet dancer portraying Nyan Cat. But you won't be surprised by who won.
And the winner of the first-ever Friskies award was Mick Szydlowski for his video, "Oskar's First Toys." Oskar is a cat born without eyes, and Mick and his girlfriend, Bethany, captured video of the newborn cat playing with a toy ball.

Szydlowski received a year's supply of cat food and a check for $15,000, which he says will be used to buy toys for Oskar and to help pay for their upcoming move from Omaha, Neb., to Seattle.

"It's an incredible feeling," Szydlowski told Yahoo News. "Cats deserve a show like this. And Oskar deserves some of the winnings, maybe all of the winnings.

"Oskar is completely blind, but he doesn't let that slow him down one bit," Szydlowski said. "He's healthy, he's happy, he does everything a regular cat would do."

Szydlowski says he hopes all the attention his Oskar videos have received will help convince people that cats with disabilities can still make great pets. "A lot of people assume it's a death sentence, which is not the case," he said.
Friskies also donated 250,000 cans of cat food to shelters in conjunction with the award. Read more about the competition and the ceremony at Yahoo News.
Link
See the videos that made it to the final round.
Link
See Oskar's First Toys.
Link
~~~~~~~~~~~~~~~~~~~~~~~~~~~
Puns for Educated Minds
1. The fattest knight at King Arthur's round table was Sir
Cumference. He acquired his size from too much pi.
2. I thought I saw an eye doctor on an Alaskan Island,
but it turned out to be an optical Aleutian.
3. She was only a whiskey maker, but he loved her still.
4. A rubber band pistol was confiscated from algebra class,
because it was a weapon of math disruption.
5. No matter how much you push the envelope, it'll still be stationery.
6. A dog gave birth to puppies near the road and was cited for littering.
7. A grenade thrown into a kitchen in France would result in Linoleum Blownapart.
8. Two silk worms had a race. They ended up in a tie.
9. A hole has been found in the nudist camp wall.
The police are looking into it.
10. Time flies like an arrow. Fruit flies like a banana.
11. Atheism is a non-prophet organization.
12. Two hats were hanging on a hat rack in the hallway.
One hat said to the other: 'You stay here; I'll go on a head.'
13. I wondered why the baseball kept getting bigger. Then it hit me.
14. A sign on the lawn at a drug rehab center said: 'Keep off the Grass.'
15. The midget fortune-teller who escaped from prison was a small medium at large.
16. The soldier who survived mustard gas and pepper spray is now a seasoned veteran
17. A backward poet writes inverse.
18. In a democracy it's your vote that counts. In feudalism it's your
count that votes.
19. When cannibals ate a missionary, they got a taste of religion.
20. If you jumped off the bridge in Paris, you'd be in Seine.
21. A vulture boards an airplane, carrying two dead raccoons. The
stewardess looks at him and says, 'I'm sorry, sir, only one carrion
allowed per passenger.'
22. Two fish swim into a concrete wall. One turns to the other and says 'Dam!'
23. Two Eskimos sitting in a kayak were chilly, so they lit a fire
in the craft. Unsurprisingly it sank, proving once again that you
can't have your kayak and heat it too.
24. Two hydrogen atoms meet.
One says, 'I've lost my electron.'
The other says 'Are you sure?' The first replies, 'Yes, I'm positive.'
25. Did you hear about the Buddhist who refused Novocain during a root canal? His goal: transcend dental medication.
26. Then there was the person who sent ten puns to friends, with the hope that at least one of the puns would make them laugh.
No pun in ten did.
~~~~~~~~~~~~~~~~~~~~