Snowflakes are one of nature's most fragile things,
but just look what they can do when they stick together.
~ Vesta M. Kelly
~~~~~~~~~~~~~~~~~~~~~~~~~~~~~~~~~~~~~~~~~~~~~~~~
From APOD last year
A New Year's Wish
~~~~~~~~~~~~~~~~~
~~~~~~~~~~~~~~~~~
Echoing
Kymm
.
All
the
best
!
~~~~~~~~~~~~~~~~~~~~~~~~~~
Irish
toast
for
a very
HAPPY
NEW
YEAR!!!!
Count

your

blessings

instead

of

your

crosses

.


Count

your

gains

instead

of

your

losses

.


Count

your

joys

instead

of

your

woes

.
Count your friends instead of your foes.
Count your smiles instead of your tears.
Count your courage instead of your fears.
Count your full times instead of your lean.
Count your kind deeds instead of your mean.
Count your health instead of your wealth.
Love your neighbor as much as yourself.
Of course I hang on tight, she said. You can't believe the kind of stuff that happens when you let go.
~~~~~~~~~~~~~~~~~~~~~~~~~~~~~
What Does a "New Year" Really Mean?
New Year's Day simply means the earth has completed another journey around the sun. But how in the world do we know how long that takes? To answer the question, Phil Plat has "taken a simple concept like 'years' and turned it into a horrifying nightmare of nerdery and math."
Let's take a look at the Earth from a distance. From our imaginary point in space, we look down and see the Earth and the Sun. The Earth is moving, orbiting the Sun. Of course it is, you think to yourself. But how do you measure that? For something to be moving, it has to be moving relative to something else. What can we use as a yardstick against which to measure the Earth's motion?

Well, we might notice as we float in space that we are surrounded by billions of pretty stars. We can use them! So we mark the position of the Earth and Sun using the stars as benchmarks, and then watch and wait. Some time later, the Earth has moved in a big circle and is back to where it started in reference to those stars. That's called a "sidereal year" (sidus is the Latin word for star). How long did that take?

Let's say we used a stopwatch to measure the elapsed time. We'll see that it took the Earth 31,558,149 seconds (some people like to approximate that as pi x 10 million = 31,415,926 seconds, which is an easy way to be pretty dang close). But how many days is that?

Well, that's a second complication. A "day" is how long it takes the Earth to rotate once, but we're back to that measurement problem again. But hey, we used the stars once, let's do it again! You stand on the Earth and define a day as the time it takes for a star to go from directly overhead to directly overhead again: a sidereal day. That takes 23 hours 56 minutes 4 seconds = 86,164 seconds. But wait a second (a sidereal second?)—shouldn't that be exactly equal to 24 hours? What happened to those 3 minutes and 56 seconds?

I was afraid you'd ask that—but this turns out to be important.
And that's only the beginning of the explanation of where we get the concepts and the measurements for a "day" and a "year." Read the rest at Bad Astronomy.
Link
Jeff Wysaski of Pleated-Jeans has a countdown of the ten most popular New Year resolutions as illustrated by cats. Good luck keeping yours! Resolutions, I mean. I very much hope you keep your cats.
Link
Recycled

Soda

Bottle

Plant

Vase





you

need

a

CD,

Sodabottle &

Glue




Spray

paint
I tried hard to find instructions but i couldn't find any but its pretty explanatory by the photo
(The Basics of Love)
~~~~~~~~~~~~~~~~~
~~~~~~~~~~~~~~~~~~~
~~~~~~~~~~~~~~~~~~~
~~~~~~~~~~~~~~~~~~~~~~
~~~~~~~~~~~~~~~~~~~~
~~~~~~~~~~~~~~~~~~~~
~~~~~~~~~~~~~~~~~
~~~~~~~~~~~~~~~~~~~
~~~~~~~~~~~~~~~~~~~~
~~~~~~~~~~~~~~~~~~~~~
~~~~~~~~~~~~~~~~~~~
~~~~~~~~~~~~~~~~~~~
~~~~~~~~~~~~~~~~~
~~~~~~~~~~~~~~~~~
~~~~~~~~~~~~~~~~~~~~~~~
~~~~~~~~~~~~~~~~~~~~~
~~~~~~~~~~~~~~~~~~~~~
~~~~~~~~~~~~~~~~~~~~~
~~~~~~~~~~~~~~~~~~~
~~~~~~~~~~~~~~~~~~
~~~~~~~~~~~~~~~~~~~~~
~~~~~~~~~~~~~~~~~~~~~
~~~~~~~~~~~~~~~~~~~~
The mind is not a vessel to be filled but a fire to be kindled. -- Plutarch
~~~~~~~~~~~~~~~~~~~~~~~
"The population rises exponentially,
~~~~~~~~~~~~~~~
~~~~~~~~~~~~~~~~~~~
~~~~~~~~~~~~~~~~
~~~~~~~~~~~~~~~~~~~~~~~
~~~~~~~~~~~~~~~~~
~~~~~~~~~~~~~~~~~~
2013 names predicted: Kindle, Pearl, Roy
AUSTIN, Texas - A baby-naming website says it predicts next year popular U.S. infant names will include: Hashtag, Tweet, Android and Pearl, Florence, Nellie and Eleanor. Officials of the social baby-naming website Belly Ballot, which collects real-time data on what names parents are selecting from around the globe, said based on naming data from more than 1,000 parents on the website, along with 10,000 votes from their friends and family, the website predicts the following naming trends:
-- Tech inspired names such as Kindle will be popular.
-- To create a unique name, many parents are choosing name combinations of two, three or more names such as Uma Thurman who named her daughter Rosalind Arusha Arkadina Altalune Florence Thurman-Busson.
-- Grandparents' and great-grandparents' names are making a strong comeback. Drew Barrymore named her daughter Olive so expect more kids named Roy, Charles, Frank, Albert and Bertha.
-- Not an entirely new trend, but more parents are using surnames for given names such as Grant, Kennedy, Hayes, Townes, Brick, Drake, Fletcher, Sutton and Copeland.
-- Using traditional names with unusual spellings such as Jaxon, Jaxen, Avah, Xakery, Josilyn and Braedyn.
In under 2 minutes, the Belly Ballot website allows parents to choose their favorite names and invite friends and family to vote on them via Facebook, Twitter and Instagram.
"The public will believe anything, so long as it is not founded on truth."

- Edith Sitwell


~~~~~~~~~~~~~~~~
The Principality of Poyais
In the 1820s, many Europeans saw the value of investing in the exploration and exploitation of the New World. Governments were being organized up and down the map, and natural resources were there for the taking. People wanted to emigrate, too, and start all over in a rich and exotic place. In this atmosphere, Scotsman Gregor MacGregor stepped in and offered in investment opportunity in a nation he owned, an attractive Latin American coastal plot called Poyais.
MacGregor claimed that Poyais covered 8m acres (an area larger than Wales). It was rich in natural resources but in need of development. That would require both cash and manpower. Through an elaborate publicity campaign, he succeeded in persuading people not only to invest their savings in the bonds of a non-existent government, but also to emigrate to a fictional country. How on earth did he manage it?
The investors lost money, but many of those who emigrated to Poyais lost their lives. Read the story of MacGregor's outrageous con at The Economist.
Link
-via
Metafilter
~~~~~~~~~~~~~~~~~~~~
The Penguin and the Piper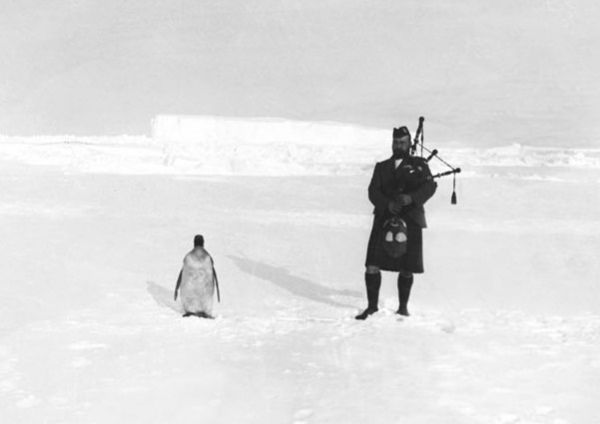 In 1904, William Speirs Bruce led the second voyage of the
Scottish National Antarctic Expedition
to the frozen continent. The ship, the
Scotia
, was trapped in ice for four days along the route. While the expedition was stuck, they continued to take geographical and meteorological observations and measurements. But the ship's bagpiper, Gilbert Kerr, took the time to pose for a photograph on the ice as he serenaded an Emperor penguin. According to the Royal Scottish Geographical Society, the penguin was tied to a cooking pot to hold him in place. The photograph was sent as a postcard from Antarctica. Piper Kerr was no doubt as full of Scottish pride as Bruce himself, but deserves extra points for wearing a kilt on an Antarctic icepack.
Link
The post was inspired by a funny animated video about the event at Nothing to Do with Arbroath.
Link
~~~~~~~~~~~~~~~~~~~~~~~
Swimming in the Nile at age 10, Hadji Ali discovered he could ingest large amounts of water and bring it up again without ill effect. He parlayed this talent into a career as a "regurgitation act" in music halls and carnivals around the world, playing even to Tsar Nicholas II at the Winter Palace in 1914.
The performance above, from Laurel and Hardy's 1931 Spanish-language film Politiquerias, includes Ali's famous closing stunt, in which he ingests both water and kerosene and then upchucks them variously onto an open flame.
All of this was received with surprising tolerance by the era's audiences -- Judy Garland named Ali her favorite vaudevillian -- but at least one club cut short an engagement when they found it was "killing their supper shows."
~~~~~~~~~~~~~~~~~~~~~~~
http://youtu.be/BMgmxkZ0pWI
There sure have been a lot of movies about space travelers! This supercut by Keith Melton pays tribute to the space helmet in cinema, but the real fun is seeing how many movies you recognize that you've seen. The song is a mashup by Daft Beatles. -via
the Presurfer
~~~~~~~~~~~~~~~~~~~~~~~~~



"Health is not simply the absence of sickness."

- Hannah Green


~~~~~~~~~~~~~~~~~~
"Everyone thinks of changing the world, but no one thinks of changing himself."
- Leo Tolstoy
Here's a great game to help you ease back into the work week. It's everyone's favorite: TicTacToe! This version has you answering trivia questions in order to put X's and O's on the board.
Bird Removed From Chinese Zoo For Screaming Obscenities
The next time you, or someone you know, is having trouble with a temperamental bird just be glad the little feathered bugger isn't screaming out a bunch of obscenities!
A zoo in Hubei, China got a big surprise when their Myna bird started screaming obscenities, which it had picked up from one of the zoo's guests according to zookeeper Li Yun, and had to be removed from display until his vocabulary could be deemed appropriate for all ages.
The bird may not be zoo friendly, but he has a great career ahead of him as an insult comic.
~~~~~~~~~~~~~~~~~~~~~~~

~~~~~~~~~~~~~~~~~~~~

~~~~~~~~~~~~~~~~~~~~
Woman Sold Ex's Secret Fishing Spots
Selling jewelry or even naked photos of your ex after a bad breakup is understandable. But selling secret fishing spots? Now that's just low.
Read how one Angela Potter exacted revenge on her ex-boyfriend , an avid fisherman, by selling his most prized possession: his secret fishing spots.
Miss Potter was clearing out her garage when she found the GPS markings for fishing spots in the Bay of Plenty and many other areas of the North Island, so she auctioned them off on Trade Me last January and scored herself a whopping $3000. [...]

Miss Potter said she would never have sold the co-ordinates had it been an amicable breakup, however, the man packed his belongings into her suitcase, which had sentimental value, and fled the country.

"When he refused to return my suitcase that's when I sold his co-ordinates," she said. "I didn't list them to be vindictive. I listed them as a bit of a laugh."
~~~~~~~~~~~~~~~~~~~~~~
~~~~~~~~~~~~~~~~~~~
~~~~~~~~~~~~~~~~~~~
New Year's Resolutions You Can Keep
Are you sick of making the same resolutions year after year that you never keep? Why not promise to do something you can actually accomplish? Here are some resolutions that you can use as a starting point:
Gain weight. At least 30 pounds.
Stop exercising. Waste of time.
Read less. Makes you think.
Watch more TV. I've been missing some good stuff.
Procrastinate more. Starting tomorrow.
Spend more time at work, surfing with the T1.
Stop bringing lunch from home: I should eat out more.
Get in a whole NEW rut!
Personal goal: bring back disco.
Buy an '83 Eldorado and invest in a really loud stereo system.
Only wear jeans that are 2 sizes too small and use a chain or rope for a belt.
Get further in debt.
Break at least one traffic law.
Associate with even worse business clients.
Spread out priorities beyond my ability to keep track of them.
Wait around for opportunity.
Focus on the faults of others.
Mope about my faults.
Never make New Year's resolutions again.
~~~~~~~~~~~~~~~~~~~~~~~~~~~~
Ryan James Yezak edited together the events of 2012 into one quick-moving video -and there are a
lot
of events crammed in here! -via
Buzzfeed
~~~~~~~~~~~~~~~~~~~~
What do you get someone who already has two of everything? Perhaps you're not shopping at the right place. You see, if you're shopping for a billionaire, then you've got to head on over to the Billionaire Shop.
There, you can pick up a €290,500 Lamborghini Aventador Roadster, a €6,490,000 Leopard Veloce 34 yacht, or even your own island or two. In fact, there's nothing under €10,000 there (I mean, come on, don't be cheap now.)
~~~~~~~~~~~~~~~~~~~~~~
Though the baby Asian Elephant born at the
Oregon Zoo
has been described as a little "spitfire" by her keepers, she has been given a rather delicate name, chosen by public vote: Lily! Born on November 30, weighing 300 pounds 136 kilos), the calf is nursing well and now weights 316 pounds (143 kilos). She stands a little more than three feet tall (.91 meters) at the shoulder. You can read about her birth from
our Zooborns post by clicking HERE
.
~~~~~~~~~~~~~~~~~~~~~~~~~
The Blind Dog and His Seeing-Eye Cat
Here's a story sure to melt your heart. When Judy Godfrey-Brown's 8-year-old dog Terfel got cataracts and became blind, an unexpected animal came to its rescue. He got a seeing-eye cat!
Eight-year-old Terfel kept bumping into things and spent most of his time stuck in his basket after being diagnosed with cataracts.
Then owner Judy Godfrey-Brown let a stray cat into her home — and was amazed by what happened next.

The puss, named Pwditat, walked up to Terfel and led him out of his basket and into the garden. She has been helping him find his way around ever since.
Guy Patrick of The Sun has the story:
Link
~~~~~~~~~~~~~~~~~~~~~~
~~~~~~~~~~~~~~~~~
In the Netherlands, New Year's Eve means partying hard. And partying hard means carbidschieten--detonating calcium carbide in a milk churn:
Basically, a small chunk of calcium carbide and a little bit of water is placed in a metal milk churn. The carbide decomposes into acetylene and a flame is held up to a small hole in the milk churn. The resulting explosion sends the lid of the milk churn across a field and much fun is had by all.
~~~~~~~~~~~~~~~~~~~~~~
"To invent, you have to take the odd and the strange combination of the years of knowledge and experience."
~~~~~~~~~~~~~~~~~~~~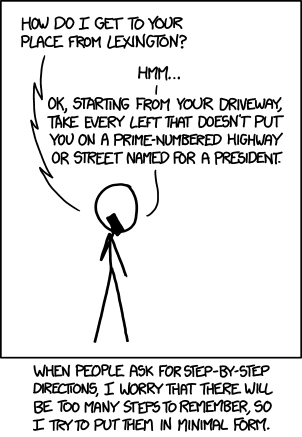 ~~~~~~~~~~~~~~~~~~~~~~~~~~~~~
The first time magician Penn Jillette of Penn and Teller met Apollo Robbins, he was unimpressed. After all, pickpocket acts are a dime-a-dozen and Jillette already knew all their tricks.
"Come on," Jillette said. "Steal something from me."

Again, Robbins begged off, but he offered to do a trick instead. He instructed Jillette to place a ring that he was wearing on a piece of paper and trace its outline with a pen. By now, a small crowd had gathered. Jillette removed his ring, put it down on the paper, unclipped a pen from his shirt, and leaned forward, preparing to draw. After a moment, he froze and looked up. His face was pale.

"Fuck. You," he said, and slumped into a chair.
And so began the fascinating life story of Apollo Robbins, one of the world's best pickpockets, as told by Adam Green in this article over at The New Yorker:
Link
- and then head on over to YouTube to
see him in action
.
~~~~~~~~~~~~~~~~~~~~~~
Pandacillin? Giant Panda May be New Source for Antibiotics
Giant pandas may look cute and all, frolickin' in the wild and chewin' bamboo leaves and such, but they may just be the latest warrior in our fight against drug-resistant superbugs.
Turns out, researchers in China have discovered that giant pandas have powerful antibiotic ("pandacillin"? Hah!) in their blood that can destoy fungi and bacteria faster than conventional antibiotics:
The antibiotic is thought to be released by the bear's immune system to protect them infections when they are living in the wild. Researchers discovered the compound, known as cathelicidin-AM, after analysing the panda's DNA. [...]

Dr Xiuwen Yan, who led the research at the Life Sciences College of Nanjing Agricultural University in China, said: "It showed potential antimicrobial activities against wide spectrum of microorganisms including bacteria and fungi, both standard and drug-resistant strains.
~~~~~~~~~~~~~~~~~~~~
~~~~~~~~~~~~~~~~~~~~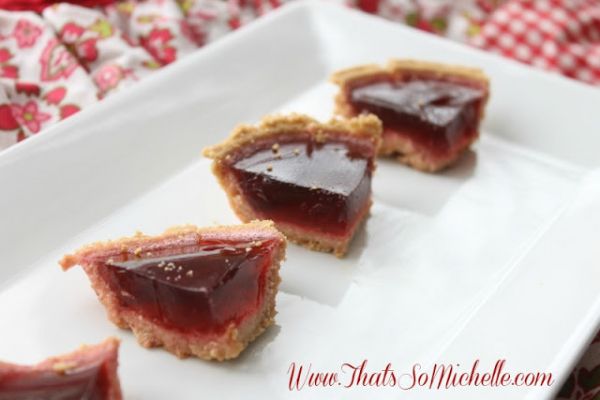 Michelle's jello shots are wrapped around a real graham cracker pie crust. They were pretty easy to make. Just pour black cherry jello and flavored vodka into pie crusts, then chill overnight. She's made similar jello shots with a pumpkin pie flavor.
Link
-via
Foodbeast
~~~~~~~~~~~~~~~~~~~~
What an ingenious idea! Clocks have been powered by gravity for centuries, so why not lights? The investment fund for this project already has about six times what they asked for. -via
Viral Viral Videos
~~~~~~~~~~~~~~~~~~
If I could look into your mind and ascertain the strength of your desire and the light and shadow of your thought I could foretell almost with certainty, the swiftness of progress towards whatever goal you are pursuing.
--Dale Carnegie
If you're still off work for the holidays and need to kill some time, the web toy Touch Effects may just eat up more of your day than you thought possible! Once you get tired of just dragging the colors around, you can adjust the parameters for an even stranger effect.
Link
-via
mental_floss
~~~~~~~~~~~~~~~~
In almost any subject, your passion for the subject will save you. If you care enough for a result, you will certainly attain it.
--William James
Meet Colo, the world's oldest known Gorilla. Born December 22, 1956 at the
Columbus Zoo & Aquarium
, Colo was the first of her kind ever born at a zoo. In fact, it would be another five years until a second Lowland Gorilla was born at a zoo and a further five years for a third.
For Colo's 56th birthday this weekend, the Columbus Zoo presented her with a specially prepared cake and presents that included her favorite food... tomatoes! Guests joined in on the fun by singing happy birthday to her, along with the staff.
Now, at 56 years old, Colo has also broken the longevity record previously held by Jenny at the Dallas Zoo, who died at age 55 in 2008. And, in 1983, her grandsons were the first twin Gorillas born in the western hemisphere.
All in all, Colo is the mother of three, grandmother of 16, great grandmother of seven and great great grandmother of two! Colo had three babies, Emmy, Oscar and Toni. Emmy was the first second-generation Gorilla born in a zoo and Toni gave birth to Cora, who was the first third-generation Gorilla born in a zoo.
~~~~~~~~~~~~~~~~~
There is nothing like a dream to create future. Utopia today, flesh and blood tomorrow.
--Victor Hugo
The passionate are the only advocates who always persuade. The simplest man with passion will be more persuasive than the most eloquent without.

-- Descartes


~~~~~~~~~~~~~~
~~~~~~~~~~~~~~~~~~~~~~~~~~~~`
The island of Montserrat is a British territory in the Caribbean. In 1995, a volcano that had been dormant for centuries erupted and has been active ever since! A 1997 eruption buried half the island, including the capital city of Plymouth, under 40 feet of mud, ash, and rocks. Visitors are still banned from the "exclusion zone," as the latest eruption was in 2010. Read more about Montserrat and see pictures of what's left at Kuriositas.
Link
-via
the Presurfer
~~~~~~~~~~~~~~~~~~~~~~
New Year, New Oddball Laws
New year, new laws. When the ball dropped on midnight, January 1st, we not only rang in the new year, but also a slew of oddball laws from around the country.
Good Morning America has a few examples:
Turns out 2013 will be unlucky for cat lovers in Wellington, Kan., where the city will be restricting the number of cats in a household to no more than four. [...]

Another unusual law taking effect at midnight is Public Act 97-743 in Illinois. This law imposes a fine of $1,000 on anyone who pops a wheelie on a motorcycle while speeding. [...]

Come 12:01 a.m. in Concord, Mass., plastic bottles will be considered contraband. Concord will be the first town in the nation to outlaw plastic bottles.

As of Jan. 1, it will no longer be illegal to flash your headlights in Florida to warn drivers about a speeding trap set by police.

In California, more than 800 laws are about to take effect, including one that allows driverless vehicles on the road. But a human must be present in the passenger's seat of all computer-driven cars.
Read more over at ABC News:
Link
~~~~~~~~~~~~~~~~~~~~
Top 25 ZooBorns of All Time - Cute by the Numbers
~~~~~~~~~~~~~~~~~~~~
A 3.5 foot-long, 35-pound Atlantic Bottlenose Dolphin was born at
Discovery Cove
in Florida on November 30 at 10:22 a.m. -- and it's a girl! The little calf is continuing to develop, nurse and bond with her mother.
Her birth is notable, because it marks the first time a Dolphin at Discovery Cove has successfully given birth to a calf conceived through the use of "sperm-sexing" research, which involves separating sperm carrying a female-producing X chromosome from sperm carrying a male-producing Y chromosome. This scientific advancement affords Discovery Cove the opportunity to manage its species' genetic diversity and social environment.
Scientists at the SeaWorld and Busch Gardens Reproductive Research Center in San Diego, pioneered the ability to preferentially produce female or male Dolphin offspring though sperm-sexing and artificial insemination. The baby represents the 15th Dolphin calf produced worldwide using sex pre-selection technology, and the 25th Dolphin born at Discovery Cove since the park opened in 2000. Discovery Cove's parent company, SeaWorld Parks & Entertainment, has one of the most successful dolphin breeding programs in the world.
~~~~~~~~~~~~~~~~~~~~
From children's existential questions to 100 ideas that changed graphic design, by way of Yayoi Kusama and illustrated scientific mysteries.
~~~~~~~~~~~~~~~~~~~
Just trust yourself then you will know how to live.
--Geothe
To be without some of the things you want is an indispensable part of happiness. ~
Bertrand Russell
If you're going to a party tonight, you'll want to keep your eyes out for all the possible squares you can cover in this holiday edition of Bingo from Jennifer Lewis at Flavorwire. There are four different cards you can print out and share with your friends. The first one to get too drunk to keep up loses! Link -via Nag on the Lake
Artist
Steve Thomas
created this stylized series of
Star Wars
posters inspired by government-issued tourism promotions for national and state parks between 1930 and 1950. These renderings of memorable places in a galaxy far, far away use the classic fonts and sleek imagery of the vintage posters upon which they are based.
"Big Bird meets Salvador Dali has been brought to you by the numbers L and ), and by the letter 3."
-- D. J. Green
~~~~~~~~~~~~~~~~
You probably sing the song "Happy Birthday To You" several times a year in your home, but you don't hear it much in restaurants or movies because it's under copyright. The song's origin are not exactly clear, but it was copyrighted in 1935. Through a series of purchases, the rights are now owned by Time Warner, a company which had nothing to do with creating the song.
The song "Happy Birthday To You" is the most recognizable song in the English language, but it can cost independent filmmakers an estimated $10,000 to clear the song for their films, and it will remain under copyright protection in the United States until 2030. This is a major stumbling block hindering the creation of new works of art. It's time to shake (or at least unsettle) "Happy Birthday" from it's fortified cultural throne, and replace it with a melody that the children can sing without fear of being served.
The Free Music Archive is running a contest for a new birthday song (or two) that can replace it. You can enter a song through January 13th, or listen to other entries.
Link
-via
Laughing Squid
~~~~~~~~~~~~~~~~~~~~~~~
~~~~~~~~~~~~~~~~~~~~~~~~`
I hate to make a bad joke, but the joke just can't be contained. Looks like Bazinga, a catchphrase used by Sheldon Cooper on the Big Bang Theory, is officially a 'buzz word.' Instead of naming the brand new orchid bee species after himself or the species' appearance, Andre Nemesio and his team named the bee Euglossa bazinga. Why, you may ask?
The specific epithet honors the clever, funny, captivating "nerd" character Sheldon Cooper, brilliantly portrayed by the North American actor James Joseph "Jim" Parsons on the CBS TV show "The Big Bang Theory". Sheldon Cooper's favorite comic word "bazinga", used by him when tricking somebody, was here chosen to represent the character. Euglossa bazinga sp. n. has tricked us for some time due to its similarity to E. ignita, what led us to use "bazinga". Sheldon Cooper has also an asteroid named after him (246247 Sheldoncooper).
Chocolate cookies with chocolate chips? Let's choc it up a notch. Karylnn Johnston stuffed hers with whole York Peppermint Patties. Assembling them was as simple as folding two pieces of cookie dough around the patties. You can find her recipe at the link.
Link
-via
Tasteologie
~~~~~~~~~~~~~~~~~~~~
What do fireworks look like when you see them backwards? Simply beautiful. Julian Tay recorded the New Year's Day fireworks display in Melbourne, Australia and reversed the image.
Cat arrested while sneaking cellphone and saw into Brazil prison
A cat carrying a saw and a mobile phone was "detained
" as it entered a prison gate in northeast Brazil, Brazilian media reported on Saturday.
Prison guards were surprised when they saw a white cat crossing the main gate of the prison, its body wrapped with tape. A closer look showed the feline also carried drills, an earphone, a memory card, batteries and a phone charger.
All 263 detainees in the prison of Arapiraca, a city of 215,000 people in the state of Alagoas, are considered suspect in the plot, which is being investigated by local poli

ce

...
The cat was taken to an animal disease center to receive medical care.
Phew! Was he a cat burglar in his spare time?
Thanks Ed ~ my laugh of the day
Kangaroo Island, Australia - Lonely Planet Travel
As of 2009 numbers there are about 1,900 landfills in the United States.
While 1,900 represents an actual significant decline in numbers over the last 25 years, the size of landfills has gone up dramatically, making them mega-landfills, really.
Fewer, larger landfills also means trash now has to travel farther from your kitchen to its final resting place, and longer trips mean more greenhouse gas emissions.
Either way you look at it, trash is a big problem. But what can you do? All the recycling in the world won't eliminate trash.
No, I'm sorry, actually it totally will. Take a look at Sweden.
In Sweden, where they use an innovative waste-to-energy program and highly efficient recycling habits, they have actually run out of trash.
In order to continue fueling the waste-to-energy factories that provide electricity to a quarter of a million homes and 20 percent of the entire country's district heating, Sweden is now importing trash from the landfills of other European countries. In fact, those countries are paying Sweden to do so, turning garbage into stinky, stinky gold for Sweden.
Imagine what we could accomplish with 1,900 mega-landfills in the United States!
"A police officer in San Francisco was busted for running a brothel. They became suspicious when he would only handcuff people that paid extra." -Craig Ferguson


~~~~~~~~~~~~~~~~~~~~
In addition to being generally awesome, turns out sex is pretty great. Frequent (safe) sex can help reduce the risks of heart attack, stroke, hypertension, depression, etc. etc., and if you're doing it often enough, you can even live about 8 years longer. But the recommended frequency for adding those years can be something of a chore, since achieving 350-700 orgasms per year is probably only average for young guys and certain film stars. The good news? The sexbots are coming.
~~~~~~~~~~~~~~~~~~~~~~~~~~~~~
Police seek owner of 1938 telegram
DALY CITY, Calif. - California police said they are trying to find the owner of a 1938 telegram found in the back seat of a mail carrier accused of stealing credit and gift cards. Daly City police said Romeo Natan, 38, was busted on charges of stealing credit and gift cards from mail he was supposed to be delivering to San Carlos homes and investigating detectives discovered a telegram from Christmas Day 1938 among the thousands of letters allegedly stolen by Natan, the San Mateo County (Calif.) Times reported Thursday. Senior Detective Joe Bocci said the telegram must have been dropped into the mail prior to the holidays. "I think someone was passing down some family history," he said. "It means something to somebody." The telegram is from a couple named Minnie and Fred and addressed to a woman named Emma Gonzales in San Francisco. The text wishes Gonzalez a happy holiday and informs her the couple arrived safe in Reno. Natan and two alleged accomplices are facing numerous felony charges.
To laugh often and much; to win the respect of intelligent people and the affection of children; to earn the appreciation of honest critics and endure the betrayal of false friends; to appreciate beauty, to find the best in others; to leave the world a little better; whether by a healthy child, a garden patch or a redeemed social condition; to know even one life has breathed easier because you have lived. This is the meaning of success.

--Ralph Waldo Emerson


~~~~~~~~~~~~~~~~~~~~~~
Immature love says: 'I love you because I need you.' Mature love says 'I need you because I love you.'
--Erich Fromm
~~~~~~~~~~~~~~~~~~~~~
The self is our life's goal, for it is the most complete expression of that fateful combination we call individuality. ~
CJ Jung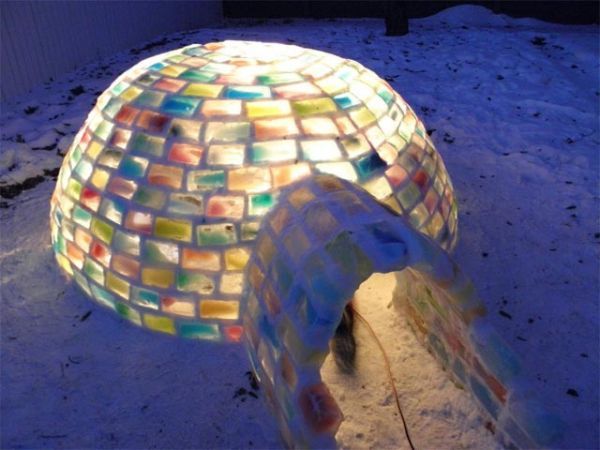 In Edmonton, Alberta, Daniel Gray and his girlfriend Kathleen Starrie built an amazing igloo with hundreds of colored ice bricks. Ms. Starrie's parents conceived of the project as a way to distract Gray from their daughter. To prepare, they collected hundreds of milk cartons to use as molds for the bricks. Gray, an engineer, embraced the project:
Originally, Gray thought the best way to build the igloo would be to cut each of the ice blocks so they would fit together perfectly. Instead, he used what he now calls "snowcrete" to put the ice blocks together.

"(It) is just snow and water but, it sticks really well to the ice," Gray said, "The snowcrete just shaped and moulded however you wanted so it made it possible."

In total, the group spent about 150 hours carefully putting about 500 ice blocks together, one by one, to build the colourful igloo.
You can watch a video at the news story link.
Never bring a knife to a gun fight...even a really, really long knife. This is a lesson that was never learned by a 38-year-old Michigan man named Chris Burroughs.
Police responded to a disturbance in the little Michigan town of Norton Shores where Burroughs had allegedly assaulted a woman in his home. Well, neighbors said they saw a woman running down the street and bleeding from her head, so it is fair to say there was reasonable suspicion.
When police officers responded to the scene they attempted to make contact with Burroughs in the front of the home where he lives with his mother.
Burroughs then ran to the back of the home and the officers went around to meet him. That is when police said Burroughs burst out of the back door Kill Bill-style, waving a four-foot-long sword over his head.
The officers commanded Burroughs to put the weapon down but he allegedly refused and taunted the officers to shoot him.
Which they did.
One of the officers fired at the suspect, striking him at least once. Burroughs was arrested for domestic assault.
Python, crabs left in hotel rooms
THAME, England - British hotel chain Travelodge UK said some of the oddest items left in its rooms include a pet python, breast implants and a bucket of live crabs. The budget chain based in Thame, England, said items in its lost-and-founds include a pet python named Monty, a winning EuroMillions lottery ticket, the prop used as Harry Potter's wand in one of the films, a diamond-encrusted iPhone, a bucket of live crabs and a set of women's breast implants, The Scotsman reported Thursday. The hotel chain said the most popular items left in their rooms include pajamas, phone and laptop chargers, teddy bears, toiletry items and electronics. The company said the 20,000 books left in its hotel rooms during the past 12 months include 7,000 copies of "Fifty Shades of Grey."
QUOTE: "A quitter never wins and a winner never quits."
HINT: (1883-1970), American author in the area of the new thought movement who was one of the earliest producers of the modern genre of personal-success literature.
ANSWER: Napoleon Hill.
Angry Birds Star Wars Cookies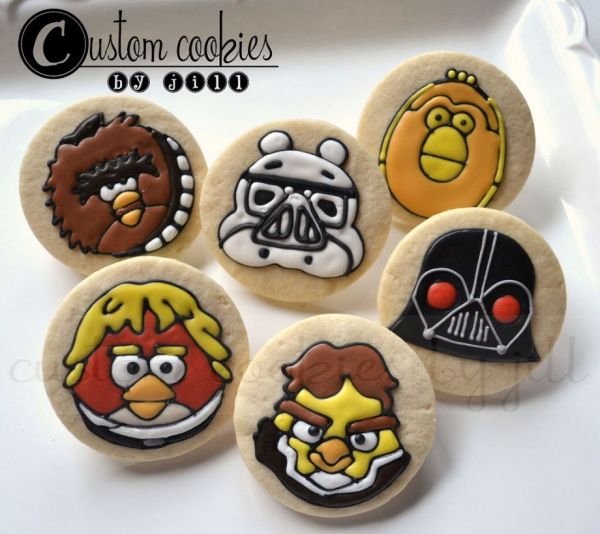 The Chicago-based baker Jill Wagner makes custom cookies for every occasion and theme. Her gallery includes Tom & Jerry, The Lorax, Family Guy and Toy Story cookies. Four of these birds are ready to slingshot themselves at the Death Star.
~~~~~~~~~~~~~~~~~~~~~~~~
RANDOM TIDBITS
Billiards evolved from a lawn game similar to croquet played sometime during the 15th century in Northern Europe (probably in France).
The term "poolroom" now means a place where billiards is played, but in the 19th century a poolroom was a betting parlor for horse racing. Billiard tables were installed so patrons could pass the time between races. The game of billiards and the poolroom became connected in the public's mind. Today, the two terms are used interchangeably.
The term "scratch," as applied to a pocketing of the cue ball, was derived from the penalty assessed for such a foul. In pool's early days, the score was often kept on a chalkboard. When a player pocketed the cue ball, his opponent "scratched" a point off the shooter's score.
In 1765 A.D., the first billiard room was built in England. Played there was One-Pocket, which was a table with one pocket and four balls.
The word "cue" is derived from the French queue, meaning tail. Before the cue stick was designed, billiards was played with a mace. The mace consisted of a curved wooden (or metal) head used to push the ball forward, attached to a narrow handle. Since the bulkiness of the mace head made shots along the rail difficult, it was often turned around and the "tail" end was used. Players eventually realized this method was far more effective, and the cue as a separate instrument grew out of the mace's tail.
Tables originally had flat vertical walls for rails and their only function was to keep the balls from falling off. They resembled riverbanks and even used to be called "banks." Players discovered that balls could bounce off the rails and began deliberately aiming at them. Thus a "bank shot" is one in which a ball is made to rebound from a cushion as part of the shot.
My childhood would have been so much better if I could wait at the park for my parents to pick me up
and
check out a book there at the same time. The stand, officially called Paradero ParaLibros ParaParques (Whereabouts For Books, For Parks)
is part of a program ran by Fundalectura
to promote literacy across South America.
I'm all for trying this in America.
~~~~~~~~~~~~~~~~~~~~~~




"Did you give the prisoner the third degree?" the police sergeant asked the detective.




"Yeah, we browbeat him pretty good," nodded the other. "Asked him every question we could think of."




"And did you get a confession?" asked the sergeant.




"Not exactly," explained the officer. "All he'd say was, 'Yes dear,' and doze off."


~~~~~~~~~~~~~~~~~~~~
A man and his wife are watching a pay-per-view boxing match on TV. The husband sighs and says, "Man, what a rip off! It was all over in three minutes!"
The wife mutters, "Now you know how I feel."
A Male Fairy Tale:
Once upon a time, a Prince asked a beautiful Princess, "Will you marry me?"
The Princess said, "No!"
And the Prince lived happily ever after and rode motorcycles and dated skinny, long-legged, full-breasted women and hunted and fished and raced cars and went to naked bars and dated ladies half his age and drank whiskey, beer and Captain Morgan and never heard bitching and never paid child support or alimony and dated cheerleaders and kept his house and guns and ate spam and potato chips and beans and blew enormous farts and never got cheated on while he was at work and all his friends and family thought he was friggin cool as hell and he had tons of money in the bank and left the toilet seat up.
The end.
"I've got to admit, I love the show "Doomsday Preppers." It's about people making bunkers to survive catastrophes they know will happen. A nuclear war, viral epidemic, Fox canceling 'Glee.' It's all going to happen." -Craig Ferguson
~~~~~~~~~~~~~~~~~
"Ireland is coming out with its own version of the show 'Cheers.' Yeah, a sitcom about people who sit around drinking at a bar all day: or as they call that in Ireland, 'Reality TV.'" -Jimmy Fallon
~~~~~~~~~~~~~~~~~~
~~~~~~~~~~~~~~~~~~~~~~~~~~~

"A new study shows that California has the dirtiest tap water in the country. California officials insist that the dirty water is fine as long as you chew it thoroughly." -Conan O'Brien
After setting off the alarms at airport security, I was escorted behind a curtain. As two female officials "wanded" me, the senior officer gave instructions to the trainee on proper technique: first down the front of my body, then up the back of me, and much to my embarrassment up between my legs.
After she was done, her boss congratulated her.
"Great job," she said. "Now do it again, but this time, try turning on the wand."
~~~~~~~~~~~~~~~~~~~
Tania's Log Cabin Quilt
It's
a pantograph
by
One
Song
Needle
Arts
called
"Gypsy
Feather".
~~~~~~~~~~~~~~~~~~~~~~~~`
We were eating at one of the trendier restaurants in town when my friend pointed to the menu and told the waitress, "I'll have the 24."
"Uh, Jim," I whispered, "that's the price, not the meal number."
"Oh," he said. "In that case give me the 12."
The quickest way of ending a war is to lose it.
--George Orwell
~~~~~~~~~~~~~~~~~~~~~~
[The nasty side of Winston Churchill!]


I do not understand this squeamishness about the use of gas. We have definitely adopted the position at the Peace Conference of arguing in favour of the retention of gas as a permanent method of warfare... I am strongly in favour of using poisoned gas against uncivilized tribes.

--Winston S. Churchill, from War Office minute, 5/12/1919


~~~~~~~~~~~~~~~~
Where there is no vision, the people perish.
--Proverbs, 29:18
~~~~~~~~~~~~~~~~~~~~~~~~~~~~
Dr. S.V. Clevenger, in the Alienist and Neurologist for July 1890, describes an infant prodigy, Oscar Moore. Two little colored children were reciting the multiplication table at their home, in a little cabin in Texas, as they had repeatedly done before, and one of them asserted that four times twelve was fifty-eight, whereupon a thirteen months old baby, Oscar Moore, who had never spoken before, corrected the error by exclaiming, 'Four times twelve are forty-eight!' There was consternation in that humble home until the family became reconciled to the freak. Oscar was born in Waco, Texas, in 1885; his father is an emancipated slave, his mother is a mulatto. He was born blind; the other senses are unusually acute; his memory is the most remarkable peculiarity. He is intelligent and manifests great inquisitiveness; his memory is not parrot-like. When less than two years of age he would recite all he heard his sister read while conning her lessons. He sings and counts in different languages, has mastered an appalling array of statistics, and is greatly attracted by music. The writer concludes that Oscar is not mentally defective, but may possess extraordinary mental powers.
-- Science, June 26, 1891
A farmer in Cambridgeshire, England, discovered a massive 44-foot-long oak log in a peat bog last February. The wood had been perfectly preserved for 5,000 years! Cabinet makers Adamson and Low specialize in processing bog wood, and recognized that this one is special, and made special plans for it.
Besides, bog oak is beautiful and historical, but it's first and foremost a carpentry wood, prized for centuries as England's only native black timber. (The tannins in the oak react to iron in the subsoil to turn the wood dark brown or black.) Because the giant oaks were so much larger than they are today, bog oak wood has medullary rays far wider than in modern oak. That makes for a thick stripe grain that looks particularly gorgeous on quarter-sawn boards. Traditional drying methods couldn't preserve it in thick pieces, so its main use was as inlay wood or in the making of smaller decorative or furniture items. It's only in the past 20 years that drying technology has advanced enough to allow the preservation of substantial hunks of ancient wood.

Hamish Low had the ambitious idea to preserve the majesty of this trunk while still tying it into the hundreds of years of British carpentry tradition. He could go ahead and plank the trunk, but instead of dividing the planks into more easily dried boards, they would be kept in their 44-foot lengths. Once dried the planks would shrink, but they'd still be massive and could be used to make a giant table. That huge tabletop could then be exhibited as an example of and tribute to the arboreal giants that once dominated the English landscape. There isn't a single piece of bog oak as such on public display in the UK. Here was the perfect opportunity to rectify that oversight.
The log became known as the Fenland Black Oak as the plans fell into place. A special kiln was built big enough to dry the wood, and the log was removed from its peat bog in September. The table is expected to be ready in the summer of 2013. Its final destination is undetermined, but it will be available for the public to see.
Link
|
Project blog
-via
TYWKIWDBI
Wildlife documentarian Gordon Buchanan traveled to Svalbard for his new series The Polar Bear Family and Me. He did not know that it is customary there to bring a dish to dinner when visiting the polar bears. The mother expressed their displeasure at this breach of etiquette and tried to break through his protective capsule:
Mr Buchanan, who has filmed the world's deadliest creatures for 20-years, described the ordeal as his scariest ever experience.

He said: 'A lot of people think that carnivores are intrinsically dangerous but most aren't - there's a minimal risk and attacks are the exception.

'But polar bears are different, without a doubt she wanted me for lunch. She was so persistent, looking for a weak spot for almost 45 minutes.

'I was terrified and you could hear my heartbeat on the mic. It really was a sensational moment and a worrying situation.
Short Story: The Mini

, courtesy of Uncle John's Bathroom Reader.

And mental_floss magazine brought us The Haka.
It doesn't matter that you know the punch lines to most of these, you can't think of them before he spits them out! And there's always a chance that one or two jokes will take you by surprise. -via Tastefully Offensive
23-year old Xiao Feng doesn't want to get a job. He'd rather spend his time playing video games. To discourage this activity, Feng's father hired players to hunt down and slay his son's characters:
Unhappy with his son not finding a job, Feng decided to hire players in his son's favorite online games to hunt down Xiao Feng. It is unknown where or how Feng found the in-game assassins—every one of the players he hired were stronger and higher leveled than Xiao Feng. Feng's idea was that his son would get bored of playing games if he was killed every time he logged on, and that he would start putting more effort into getting a job.
Now that's creative parenting!
~~~~~~~~~~~~~~~~~~~~~~
Isaac Newton's Secret Sins
Even great minds have teen angst. The more intelligent teenagers just know how to hide them better! Which is a good ting, because when you become famous, someone will want to dig up that dirt, even 300 years later.
In 1662, a 19-year-old Isaac Newton started carrying a leather-bound journal, which he used to track finances and work out math problems. But he also used it to hide something secret. On two pages, Newton scribbled a cryptic code, a code that went unsolved for over 300 years. In 1964, historians finally solved the script. They discovered a list of sins: 57 of Newton's wrongdoings. The journal—today called the Fitzwilliam notebook—paints the Enlightenment icon as a mood-swinging, sweet-toothed, spiritually confused teenager. Here are some of Newton's sinful gems.
The list of sins reads like a confessional, and you can see some of them at mental_floss.
Link
~~~~~~~~~~~~~~~~~~~~
A guy walks into a pet store wanting a parrot. The store clerk shows him two beautiful ones out on the floor. "This one's $5,000 and the other is $10,000." the clerk said.
"Wow! What does the $5,000 one do?"
"This parrot can sing every aria Mozart ever wrote."
"And the other?" said the customer.
"This one can sing Wagner's entire Ring cycle. There's another one in the back room for $30,000."
"Holy moly! What does that one do?"
"Nothing that I can tell, but the other two parrots call him 'Maestro'."
~~~~~~~~~~~~~~~~~
Tough cats don't have a sense of humor, and they don't take kindly to phonies showing their cardboard faces around tough cat turf. A warning to all phony cats- stay in the toy chest or tough cat will be forced to shred you!
~~~~~~~~~~~~~~~~~~
~~~~~~~~~~~~~~~~~~~~~~~
~~~~~~~~~~~~~~~~~~~~~~
~~~~~~~~~~~~~~~~~~~~~~
~~~~~~~~~~~~~~~~
~~~~~~~~~~~~~~~~~~~~~~
~~~~~~~~~~~~~~~~~~~~~~